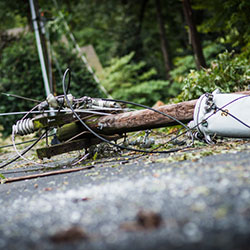 Now that Dorian has passed, homeowners and drivers will soon be turning to their insurance for help in repairing the damages caused.
Hurricane strength winds and rain caused considerable damages in Atlantic Canada last weekend and the region is still clearing the way of downed power lines, trees, and even a construction crane that toppled over in downtown Halifax. And while crews from the region and across the country help restore power, water, and cellular service, residents are beginning to assess the damages caused to their personal property.
It can feel overwhelming and the Insurance Bureau of Canada (IBC) wants to help those affected by helping them understand how the insurance claims process works.
"We know there has been significant damage across the region, and a lot of families have had their lives disrupted. When you are able to call, your insurer is ready to hear the details of your claim," said Amanda Dean, Vice-President, Atlantic, IBC.
Are you covered?
If you have home insurance, condo, or tenant insurance, wind damages caused by a hurricane or tropical storm like Dorian will usually be covered. Water damages may be covered too but it will depend on how the water entered the home and if you have sewer backup coverage or overland flooding insurance as part of your policy.
Damages to your vehicle will also be covered but only if your auto insurance policy includes comprehensive or all perils coverage. If your policy includes either one of these two optional coverages it will likely help offset the cost of repairs to your vehicle.
How to start the insurance claims process
In its statement to the residents of Atlantic Canada affected by Hurricane Dorian, the IBC outlines the steps for beginning the insurance claims process as well as tips on what to do, but only when it's safe to do so:
Assess the damage and document as much as you can with photos or video.
Call your insurance representative and/or company.
Prepare a list all damaged or destroyed items.
If possible, compile proofs of purchase, photos, receipts and warranties.
Don't throw anything out, unless it poses a health hazard.
If you have to move out of your home because of insured damage, check with your insurance representative about additional living expenses coverage. This coverage, if included on your policy, may cover the costs you incur for having to rent a hotel or motel room until your home is ready to move back into.
Also, if possible, try to minimize further damage from occurring. Board up broken windows, for example.
What you can expect to happen next
Once you've opened the claim process (with a call to your insurance provider), you will be assigned a claims adjuster. This person will reach out to you at a later date to review your losses, documentation, and to explain how the rest of the process will progress.
The IBC, however, reminds residents that because there are so many people in the region affected by Hurricane Dorian it may take longer than usual to be contacted. Once you've got your face-to-face with the claims adjuster (or your call from them) the IBC also recommends that you take notes and don't be shy about asking questions.