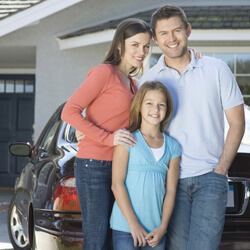 The myths of life insurance debunked and the straight-up facts.
True or false? Fact or fiction? Understanding term life insurance and its benefits means sifting through the myths surrounding it first. So we've taken a look at the most common misconceptions about term life insurance to set the record straight, and to help you make the right choice for you and your family.
Myth #1: I don't need life insurance.
Probably false. Very few people readily have the funds needed to take care of their current obligations after their death. If you have anyone who relies on your income for their day-to-day needs, like a spouse, child, or elderly parent, or if you have debts like a mortgage, credit card, or car loan, then you likely need life insurance.
Myth #2: I don't work outside the home so I don't need life insurance.
Definitely false! Just because there's no paycheque to replace, doesn't mean life insurance is unnecessary. In fact, consider how much it would cost to pay for childcare and housekeeping in the absence of a stay-at-home parent. Life insurance could help cover these family expenses.
Myth #3: I have life insurance through my job. I don't need any more coverage.
The truth is that employer-provided life insurance coverage may not be enough to protect you and your loved ones as much as you think. Review how much your employer-paid insurance provides and calculate if this is enough to accommodate your family if you're not around. Typically, industry insiders will suggest that you have five to 10 times your annual, pre-tax salary in life insurance protection. Also, will you still have the coverage you need if you leave your place of employment?
Myth #4: I have coverage from my mortgage lender. It's enough.
Mortgage life insurance pays off your mortgage if one of the people listed on the loan dies before it's paid...but that's it. What about the rest of your debts and expenses? Term life insurance offers coverage that can be used for anything, including funeral expenses, paying down a mortgage, car loan and credit cards, or to offset the loss of income into the family finances.
Myth #5: I don't need life insurance once my children are self-supporting and my mortgage is paid off.
The children may have moved out, the mortgage may be paid off, and you may even have savings and investments, but life insurance can ensure that your spouse is taken care of at a time in their life when their biggest earning years are behind them. It can also help pay significant fees that typically come with the cost of death (like taxes, probate costs, and funeral and burial expenses, for example) ensuring that the estate itself is left intact for the intended beneficiary.
Myth #6: I won't be able to get insurance because I'm a smoker.
Not true. As a smoker, you will pay more for coverage than a non-smoker's premium but it's likely be more affordable than you think.
Quotes for $250,00 10-year term life insurance: Smoker

Age
Gender
Annual Premium
30
Female
$193
30
Male
$295
35
Female
$243
35
Male
$325
40
Female
$350
40
Male
$460
Lowest quote offered online at Kanetix.ca in September 2019. Premiums have been rounded to the nearest dollar.
Myth #7: Once a smoker, always a smoker in the eyes of the life insurers.
Wrong! Good news for ex-smokers. Many life insurance companies consider you a non-smoker once you've been smoke-free for one full year. So congratulations, after one year you can usually get non-smoker rates.
Myth #8: I'm young so odds are I won't need life insurance.
The fact is you're not insuring for what's likely to happen but instead, for the worst-case scenario. That's why term life insurance is inexpensive for young, healthy people. Buying life insurance now means you'll be providing financial security without spending a lot of money for it.
Myth #9: If term life insurance is really so cheap, there must be a catch.
There's no catch. Your basic term life insurance policy will offer you coverage as long as you pay your premium. Plus, your premiums are fixed for the length of the term and won't increase even if the status of your health changes within the term.
Myth #10: It's such a hassle to get life insurance.
At Kanetix.ca, getting life insurance quotes from many of Canada's most respected life insurance companies is fast, easy and free. Compare life insurance quotes today and we'll introduce you to a licensed representative so you can go over your family's life insurance needs.