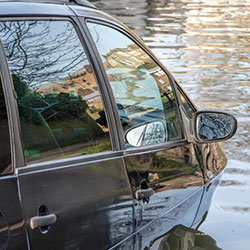 Climate change and severe weather in Canada is an election issue.
Climate change isn't just an issue for faraway lands. It's an issue felt at home too and each of the four major political parties in the country know it. They also know it's an issue that's top of mind of many Canadians who have to personally weather the effects that come with climate change; effects like severe storms and flooding that are increasingly more common and force people to turn to their home insurance and auto insurance to help with the damages caused.
Insurance Claims Tracks Climate Change?
Every year, the insurance industry tracks the claims for natural disasters that, collectively, result in $25 million or more in insured losses. And with more than 30 years to look at the trend is troubling.
In 1983, the Insurance Bureau of Canada (IBC) reports that there were two natural disasters that produced about $88.3 million in damages (in 2018 dollars). Fast forward to 2018, and there were no fewer than 12 natural disasters in each of the last three years. In 2016, the insured losses amounted to $5.26 billion, in 2017 the tally was $1.26 billion, and in 2018 it was $2.07 billion.
This year isn't faring much better. At the beginning of September, the IBC reported that insured losses are approaching $900 million with four months left to go.
Unfortunately, not everyone has the insurance needed to protect against climate-related damages, specifically flooding which the IBC says costs Canadians more than any other climate issue. And, so far, only one party has touched on the topic of flood insurance. At the end of September, the Liberals released a policy announcement saying they would create a low-cost national flood insurance program, through the CMHC, to help homeowners who are at risk for flooding but don't have sufficient insurance protection.
Most Canadians Want Climate Change to be a Priority
A variety of surveys, in advance of October's election, have suggested that climate change is on the minds of Canadian voters:
A CBC News poll in June found that although the cost of living topped the list of what worried Canadians most (for 32 percent of respondents), 19 percent said climate change was the most worrisome making it the second most popular choice.
A Forum Research survey, also in June, found that 26 percent of respondents identified the environment as the most important issue of this election.
An Angus Reid survey in August found that 69 percent of Canadians say climate change should be a priority for whichever party forms the government.
A September Ipsos poll found that Canadians ranked climate change as the third most pressing issue in the country, ranking behind only healthcare and cost of living.
Since it's on the minds of Canadian voters, you can bet it's on the minds of those hoping to become (or stay) Prime Minister on election day. But what do they say they're going to do about it? Here are just a few of the many promises being made by each of the four main parties that they're expecting will help tackle the problem. And because there are significantly more pledges being made on the topic each day, we've also included a link to each party's climate action plan.
Climate Change
Liberal Party Platform
The plan put forth by the Liberals during their campaign to tackle climate change, includes:
Committing to net-zero emissions by 2050 as agreed to at the UN's 2019 Climate Action Summit that took place at the end of September. (Note: Net-zero emissions means that the carbon dioxide that is emitted into the air is offset by something-like planting new trees-that removes an equal amount of it.)
Setting legally binding five-year milestones to reach the 2050 net-zero emission target.
Exceeding Canada's 2030 emissions goal (which is to reduce greenhouse gas emissions by 30% below 2005's levels).
Cutting corporate taxes in half for companies (large and small) that develop technologies or manufacture products that have zero emissions.
Ensuring all federal buildings run on clean electricity by 2022.
Providing homeowners and landlords with access to interest-free loans for up to $40,000 to retrofit properties so they're more energy efficient and better protected from climate-related risks.
Encouraging people to buy newly built homes that are certified zero-emissions with the Net Zero Homes Grant that could be as much as $5,000.
Creating a low-cost national flood insurance program that protects homeowners who are at high risk of flooding and don't have adequate insurance protection.
Working with the provinces and territories to finish all flood maps in the country so homebuyers will know the flooding risks of a prospective new home.
Protecting 25 percent of Canada's land and 25 percent of its oceans by 2025, and come 2030, protecting 30 percent of each. Currently, about 11.2 percent of land and 7.9 percent of marine area is conserved in Canada.
Conservative Party Platform
Some of the initiatives the Conservatives plan to undertake include:
Setting emissions standards for major emitters that will lower greenhouse gases. Those that emit more than is allowed will be required to invest in certified green research, development, and adoption of emissions-reducing technology.
Creating a two-year Green Homes Tax Credit for homeowners to help pay for energy-saving renovations. The income tax credit is 20 percent and could save homeowners as much as $3,800 each year of the program for eligible renovations.
Establishing a voluntary net-zero energy building standard. (These are buildings that produce as much clean energy as they consume.)
Encouraging the use of green products like wood and low-carbon cement to reduce the carbon footprint of buildings and other infrastructure projects.
Reducing the business tax rate to 5% (from 15%) for income that is earned from green technology developed and patented in Canada to foster innovation.
Facilitating the development of faster charging electric vehicle batteries, longer range batteries, recycling used batteries, and the infrastructure needed to recharge.
Working with farmers to increase fertilizer efficiency and land-use methods, maximize the potential of agricultural land to retain carbon, and ensure best practices evolve with advancements in technology.
Fostering the adoption of smart grid technology, strategic interconnection of electricity grids, and renewable power technologies.
Pursuing natural infrastructure projects, like enhancing or constructing wetlands, that provide low-cost protection against floods, drought and water quality issues.
Committing to set aside 17 percent of Canada's land and 10 percent of marine area as protected areas.
NDP Platform
According to the NDP's plan, some of the initiatives they plan include:
Adopting ambitious targets for greenhouse gas reductions that are science-based.
Maintaining carbon pricing to encourage greenhouse reductions at the source, while keeping household rebates.
Ensuring the federal government buys from clean technology Canadian companies, its buildings use renewable energy, and its vehicles are all electric by 2025.
Funding energy efficient building retrofits to reduce energy demand, beginning with social housing units and provincial or territorial government buildings.
Providing low-interest loans for home upgrades that improve energy efficient.
Requiring new buildings to be net-zero energy ready by 2030.
Providing federal transit funding to help low-carbon transit projects, like zero-emissions buses and electric trains, with the goal of electrifying transit by 2030.
Assisting Canadian auto manufacturers in producing more zero-emission vehicles (ZEV) with the target of ZEVs being 100 percent of new vehicle sales by 2040. Extending and growing ZEV federal incentives for drivers.
Adopting a target for net carbon-free electricity by 2030 and wholly emission-free electricity by 2050.
Protecting 30 percent of our land, freshwater, and oceans by 2030 and back those protections with funding and enforcement.
Green Party Platform
According to the Green Party's plan, some of the initiatives they plan to undertake include:
Legislating a 60 percent cut in emissions by 2030, reaching net-zero in 2050. Interim targets would be set at five-year intervals beginning in 2025.
Setting legal emissions limits for industries that decline over time, with penalties for those who exceed the limits outlined.
Rejecting all new proposals for pipelines, or coal, oil or gas drilling or mining, and cancelling the Trans Mountain pipeline as well as subsidies that go to fossil fuel industries.
Implementing a national electrical grid strategy to enable the flow of renewal electricity across provincial and territorial boundaries.
Investing in renewal electricity so that come 2030, 100 percent of Canada's electricity will come from renewable resources.
Launching an energy efficiency retrofit of residential, commercial and institutional buildings. There are also plans to change the national building code to require new construction to meet net-zero emission standards by 2030.
Banning the sale of internal combustion engine passenger vehicles by 2030.
Exempting new and used electric and zero-emission vehicles from federal sales tax and expanding the charging station network.
Implementing national standards for reducing the use of nitrogen fertilizers in crop agriculture, reducing erosion, and rebuilding soils to retain carbon.
Investing in climate-proofing essential infrastructure, prioritizing upgrades to drinking water and wastewater systems to protect against flooding, droughts, and contamination.
Get Ready for Election Day
No matter what party's approach to climate change appeals to you, one thing is imperative and that's to vote. Don't let others make the decision for you.