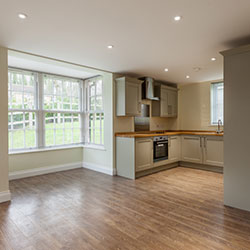 Whether you're leaving your previous home empty for an extended period of time, in between renters ,or even just going on an extended vacation, it's worth checking whether a vacant home could affect your home insurance policy.
This article will run through a variety of vacant home scenarios, but as a general rule, it's important to keep your insurance company in the loop so that you can make sure you're fully covered.
First, it's important to understand what a vacant home is in Canada. A vacant home is defined by law as a home that has been emptied - including emptied of most furniture - and unattended for more than 30 days. A vacant home can be different than an "unoccupied" home, which is a home you intend to return to, and which has most utilities inside still functioning.
The specific definitions of unoccupied and vacant homes can differ between insurance providers, so it's best to get the specifics from your provider.
If you're selling or renovating
If you're moving homes or taking on renovations, it's likely that your empty property will fall under the definition of "vacant." That's because the home would likely be cleared of most of your belongings or appliances. If your home will be in this state for more than 30 days, you should call your insurance provider. You may have to purchase an add-on plan to keep your coverage active.
There have been cases in the past where damage during a renovation or a break-in during an extended vacancy was not covered under standard home insurance.
If you're a landlord
If your previous tenant has moved out and there's an extended gap before the next one moves in, it's best to inform your insurance provider about your exact situation.
There could be cases where your home is defined as either unoccupied or vacant. That depends on whether there is still furniture in the home, whether there are appliances in the home, and whether those appliances are turned on during the month. The exact definition of unoccupied and vacant can vary between providers and plans.
If you're going on vacation
If you're on an extended holiday, then it's likely that your home would be defined as unoccupied rather than vacant. That's because you'll likely be keeping most of your furniture in the property, and the home will be ready for you to move right back in.
It's still best to contact your insurance company to make sure that your coverage includes unoccupied homes. The bottom line for any scenario is to keep your insurance company in the know. You may need to purchase add-ons to keep your home insurance valid during a move, vacation, or when in-between tenants.
Failing to do so could result in your claim being denied if something goes wrong. Here are some things you can do to protect a vacant home:
Lock all windows and doors
Cover all your windows with curtains
Make your home look tidy: mow your lawn and keep the backyard organized
Have a friend or family member keep an eye on the property and make sure that they also check to make sure that the heating is functioning during the winter months due to the risk of freezing pipes
Check on your appliances to make sure they're running well
Kanetix.ca offers a great first step in figuring out which insurance provider has the best coverage for you at the best price. Compare home insurance rates today.