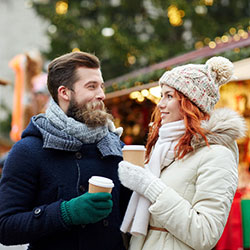 Canadians love to travel over the holidays and if you're travelling to visit friends and family this year, then you'll want to consider the following travel tips first.
1. Get a family plan. Opt for a family travel insurance plan to save money and ensure everyone is protected. Family plans typically cover two adults, and up to five unmarried dependent children under the age of 21 all living in the same home.
2. Make sure your passport isn't expired. If it is, now is the time to head to a Canadian passport office and have your passport processing time expedited. Although there are varying fees based on how quickly you need your passport, this will ensure you can leave the country on time.
3. Wrap presents later. If you're travelling through customs by plane, train or automobile, then you'll want to make sure any gifts you bring are not wrapped. If they are, customs agents may unwrap them for closer inspection. Wrap them later, once you've arrived at your destination. Or, consider having your gifts shipped to your destination prior to your arrival.
4. Stay within duty limits. You'll also want to make sure you're not bringing (or sending) more than your fair share of gifts. If you exceed what's allowed, your gifts may be subject to duty or other taxes.
5. Practice prescription protocol. If you're bringing medication, keep it in its original pharmacy container. You may also want to consider a doctor's note detailing your prescriptions in case customs asks you any questions.
6. Call your home insurance provider. Contact your home insurer to find out if there's any requirements that need to be met before you leave to keep your coverage in force. Depending on how long you're away, you may need to arrange for a family member or neighbour to check your home on a regular basis.
7. Arrange to have a neighbour or someone you trust clear your walk of snow and ice. Even though you're away from home, you're still responsible for ensuring that your sidewalks and walkways are shovelled after a snowfall. It also helps disguise the fact that no one is home.
8. Plan ahead. The holidays and New Year's are some of the busiest times for air travel. Give yourself plenty of time to check in, check your luggage, and clear security and customs. Don't forget to pack your patience too, you'll likely need it.
9. Anticipate delays. Leave a touch earlier than you normally would to ensure you have enough time to reach the airport should there be any delays. Worsened weather conditions combined with a higher density in traffic can easily add time to your trip that you didn't expect!
10. Practice safe driving. The roads can be a mess this time of year making winter driving tricky. Plan your route to avoid confusion and check the weather reports before you leave. Keep a safe distance between yourself and the vehicle in front and, if the weather is foul, remember to reduce your speed and do everything gently, especially turning, accelerating or stopping.
Wherever your travels take you this holiday season, travel safe and travel smart.