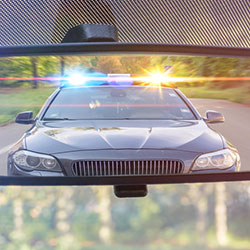 Cannabis in Canada may soon be legal for recreational purposes, but make sure you leave the car parked. Driving impaired is impaired, whether it's from alcohol or cannabis.
For the last several decades, any talk about impaired driving has mostly centred on drunk driving. Since the federal government first introduced the bill to legalize cannabis in the country, however, the conversation has turned to focus on drug-impaired driving as well. This broader conversation is a good thing because many Canadians don't fully appreciate how cannabis can affect a person's ability to drive.
How cannabis impairs your driving skills
A Health Canada study last year revealed that 50 per cent of cannabis users didn't think partaking in the drug affects their driving much, while one in five (19 per cent) didn't think it had any negative effect at all. However, research has shown that cannabis does indeed affect your ability to drive. It slows down your reaction time, impedes your ability to make decisions, and affects your coordination, memory and concentration .
One in seven have driven while under the influence
According to Statistics Canada's quarterly National Cannabis Survey, one in seven (14 per cent) of cannabis users with a driver's licence admitted they got behind the wheel of a vehicle within two hours of using cannabis; while one in 20 Canadians have been a passenger in a vehicle driven by someone who has consumed cannabis within this timeframe as well.
It's widely accepted, however, that two hours is simply not enough time to ensure you're safe to drive, but how long should you wait to drive after cannabis use?
The fact is, there is no unanimous consensus because too many variables are at play: the potency of the cannabis, how it's ingested and how much is consumed, to name just a few. Some research suggests waiting at least six to eight hours after consuming cannabis before hitting the road, but if you really want to avoid driving while drug-impaired, it's best to leave the car at home. Find another means of getting to where you want to go, just as you would if you were drinking.
Impaired is impaired
Whether it's by alcohol, cannabis or any other drug, driving impaired is illegal and comes with hefty penalties and consequences: licence suspension, fines, vehicle impoundment, criminal charges and jail time are on the table if you get behind the wheel and drive while drunk or high.
It's also a conviction that will follow you for years when it comes to your auto insurance premiums. For some drivers, this means seeing huge increases on their premiums. For others, it may mean having your insurance cancelled all together.
New drug-impaired driving laws in Canada
Since 1925, drug-impaired driving has been a criminal offence. It's illegal to drive when impaired by any drug, including cannabis that is prescribed for medical purposes. However, with the forthcoming legalization of cannabis in Canada on October 17th, 2018, new federal laws have been implemented that specify how much THC in your blood is too much when it comes to driving. THC is the main component of cannabis that gives you your high. These laws came into effect on June 21, 2018 and apply to every Canadian. The following is a summary of the penalties for a first-time offence:
If you're caught driving with 2 nanograms (ng) of THC per millilitre (ml) of blood but less than 5 ng, you'll face a maximum fine of $1,000.
If you have more than 5 ng of THC in your system, you'll face a mandatory minimum fine of $1,000.
If you have a blood alcohol concentration of 0.05 milligrams and 2.5 ng of THC in your system, you'll face a mandatory minimum fine of $1,000.
These fines are in addition to the one-year licence suspension that is customary with an impaired driving conviction. For repeat offenders or individuals who cause bodily harm or death, the penalties are far more severe.
The provinces are also changing their impaired driving laws
In addition to the federal rules, each province is introducing their own set of cannabis laws that affect drivers.
In Ontario for example, new laws came into force on July 1, 2018 that include a zero-tolerance approach when young drivers (under 21), drivers who hold their G1 or G2 (regardless of age) and commercial drivers get behind the wheel. The penalty is an immediate licence suspension. In Alberta the approach is much the same. Drivers in Alberta's graduated licensing program will face an immediate 30-day licence suspension and 7-day vehicle seizure if it's found they're drug-impaired in any way.
Driving High is Driving Impaired
Being one of only a few countries in the world to legalize cannabis for recreational use, the road ahead is the road less travelled. Even so, one thing is for certain: if you drive while high it will be treated as if you were impaired by alcohol, harshly.