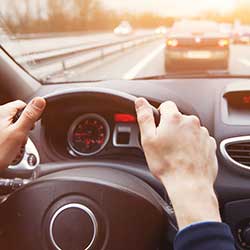 A Statistics Canada report finds that more Canadians are spending an hour or more getting to work.
An hour is a long time to commute into work, but for nearly 10 percent of Canadians it's a daily reality. According to a Statistics Canada study based on 2016 census data, 1.5 million Canadians spent at least 60 minutes or more travelling to work and that's not including the trip home at the end of the day.
The number of commuters facing a long trip into work has increased and the majority of these long commutes to work are undertaken by people who travel by car, 57 percent, while 40 percent are by public transit.
In the Car and on the Road
For Canadian drivers who take the car to work, overall, only seven percent have a commute that's longer than 60 minutes. When looked at a city level however, the study found there are two cities in particular where a significantly higher proportion of the working population is dealing with a daily drive that exceeds an hour: Barrie and Oshawa. In Barrie, 18 percent of drivers face a commute that exceeds an hour, while in Oshawa 17.3 percent do.
In comparison, 11.1 percent of Toronto drivers, 9.6 percent of Hamilton drivers, 7.7 percent of Vancouver drivers, and 7.2 percent of Montreal drivers spend more than an hour getting to work each day.
Long Commute, High Auto Insurance Rates?
If you drive to work, your commute does impact your auto insurance, but perhaps not in the way you think.
From an insurance standpoint, it's not the amount of time you spend in the car that's relevant, but the distance driven. If your commute is 15 kilometres, for example, it doesn't matter if it regularly takes you 30 minutes to travel this distance or an hour. The impact on your insurance premiums is essentially the same.
In terms of daily commute distances to work, there are basically two ranges that matter to your insurance premiums:
Commutes that are less than 16 kilometres (10 miles) long one-way
Commutes that are 16 kilometres or more
The distance driven for your daily commute is one of the factors that play a role in which category you're placed in when determining the premium you'll pay.
Collisions and Commutes
The thing about a lengthy commute, no matter what the distance travelled, is that the longer you're on the road and navigating traffic congestion, the greater the risk of a collision.
You're at most risk for a collision on your return home, according to Canada's National Collision Database, that shows the peak time of day for collisions is traditionally between 3 p.m. and 6 p.m., and, the days to watch out for are the days leading into the weekend, Thursdays and Fridays.
Commuting clearly takes its toll on drivers, especially today when there are so many of us on the roads.
Take care on the road and take care of your auto insurance premiums
Commuting to work is a reality for millions of Canadians, but high insurance premiums don't have to be. Compare auto insurance quotes online through Kanetix.ca today for your lowest rate. On average, drivers save 20 percent on their car insurance by comparing quotes and you could too.