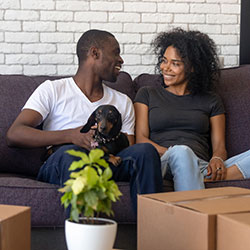 The lowdown on getting tenant insurance for first-timers.
Most people, at one time or another, have rented where they live. And, for young adults looking to move out for the first time, it's a rite of passage. But along with the excitement of having a place to call your own is the reality of the everyday responsibilities that are essential but may not be immediately on your radar. Essentials, like property insurance, that may have been taken care of by someone else.
Almost Half of All Renters Don't Have Tenant Insurance
Approximately 30 percent of Canadian households are rented by tenants, yet, last year we reported on the results of a Kanetix.ca survey that found almost 50 percent of tenants do not have a renter's insurance policy. That means there are potentially 2 million households in the country without coverage.
At the time, the most common reason cited in the survey for not having renter's insurance was cost (47.8 percent) with the remaining survey respondents feeling they either didn't have much to insure (24.3 percent) or believing they're included under their landlord's policy (17.3 percent) or roommate's coverage (10.5 percent).
Not asked in the survey, however, was if a reason for not having it was because obtaining coverage was difficult. Some recent reports suggest that this very well could be a reason why renters are forgoing tenant insurance.
Having Tenant's Insurance is Important
Even furnishing the smallest apartment means you've likely got thousands of dollars of "stuff" to insure. From your living room to your bathroom and everything in between, the value of your possessions and the cost to replace them in the event of a total loss (like fire) is significant—and beyond the financial capability of most people. Even a less than total loss, such as a break-in, can result in considerable financial difficulty.
Additionally, there's more to tenant insurance than just protecting your possessions. It also protects your finances in a variety of ways:
Renter's insurance typically includes coverage for living expenses - e.g. temporary living accommodations - should damage caused by an insured peril force you out of your home (fire being an ideal example).
There's liability coverage too if you're sued for injuries or property damage you unintentionally cause. Plus, liability coverage isn't limited to events that happen at your home, it typically covers you wherever you are, even if you're on vacation.
Identity theft is also often covered, although policies vary. It is pretty common though to have coverage that will protect you from financial losses that are a result theft, or illegal access to, your identity or credit, as well as expenses incurred to right this wrong.
How to Easily Get Tenant Insurance
If you haven't yet built up an insurance history to fall back on, the following tips will help you get tenant insurance with greater ease.
Bundle your policies:
If you have auto insurance, ask your provider about tenant insurance too. Insurance companies like it when you have a couple of policies with them.
Tap into your parents' insurance history:
If you're moving out for the first time, provide your parents' home insurance policy information to prove that you're claims-free.
Commit to a higher deductible initially:
A deductible is the portion of an insurance claim you agree to pay on your own. Your insurance company picks up the rest. Generally speaking, the higher the deductible you choose, the lower your insurance rate. A higher deductible could also be viewed as a predictor of the likelihood of a claim. Whatever deductible you choose, however, make sure the amount selected won't be financially stressful should you need to submit a claim.
Agree to a credit check:
How you manage your finances is sometimes believed to be an indicator of the likelihood of a property insurance claim, and some insurance providers—where allowed—use your credit score (but only with your permission) as a rating factor in determining your insurance rate. That said, you don't have to give them permission to check your credit score, but it might make things easier and cheaper if you did.
Compare tenant insurance quotes online:
It's easy and affordable to get the renter's insurance you need at Kanetix.ca. Get a tenant insurance quote in minutes and buy online for your peace of mind, knowing you and your belongings are covered. Prices start as low as $15 a month.