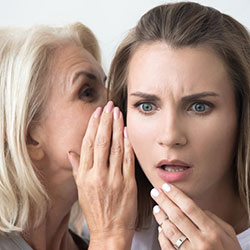 Seize the chance to save when opportunity knocks.
The road to lower car insurance rates for many drivers starts and stops when it's time to renew. There are many times outside of this narrow lane, however, when you can cruise into some sweet savings. It's true! All you have to do is see how your current premiums stack up at these 10 key times that may not coincide with your policy's renewal.
Will You Brake for Lower Auto Insurance Rates When the Time Is Right?
Mid-season premium savings could await you if you're really into lowering your insurance costs. Why? Well, there's oodles of factors that go into determining your insurance premium and when just one of these changes (just one!), your premiums could change too.
The secret lies in knowing that anytime your rates change with your current provider they're also likely to change with other insurers too. And because every insurer calculates their rates differently, you may find that you can get a better deal on your coverage by switching. You just have to seize the savings!
Key Times to Seek Out the Lowest Rates for Auto Insurance
1. Ditching the probationary licence
With a full blown, non-probationary, driver's licence in hand the open road awaits. So too does your opportunity to lower your premiums. You've done your part and passed all the driving tests and now it's time to put your insurer's rates to the test too!
2. The birthday benefit of turning 25
Many young drivers don't realize that once they hit the ripe old age of 25, many see their auto insurance rates go down. It's a birthday present for good drivers that's just waiting to be opened.
3. Saying "I do"
Is it time to break up with your insurer when you say "I do" to your spouse? Your spouse's driving record now affects your rates and the insurer who offered you the best rate when you were single may no longer offer you the best rate as a couple.
4. Saying "I don't"
Breaking up is hard to do but if your ex had a less than stellar driving record, a fresh start with a new insurer who gives the best rate for you, and only you, may be a split that helps you save.
5. Moving on up
Your driving record, insurance history, vehicle driven, and commute, all play a role in the premium you pay. But when the only thing different is your address, why do rates vary? It generally boils down to the likelihood of a claim. Insurance companies study statistical data on claims frequency (and severity), and if collectively, an area is more likely to report insurance claims this added risk will be reflected in your premium. As a result, when you move homes it may be time to move insurers too.
6. Buying a new ride
Repair costs, auto theft rates, and safety features: all of these factor into how much it costs to insure your vehicle. But insurers are kind of like thumbprints, no two are alike and none of them calculate their rates in the exact same way. As a result, if you're driving around town in a new ride, it may be time to drive down your premiums with a new provider.
7. Reliving your teen years with your own teenager
Teenage drivers usually pay higher insurance than experienced, older drivers, but some insurers are more teen-friendly than others. If you have a new driver in your household, it's worth checking to see if another insurer will give you a better rate, when your teen comes home with their shiny new licence in hand.
8. Paying your (ticket) dues
Traffic tickets are a real pain in your wallet but generally clear off your driving record after three years. Once you're in the clear there may be relief in sight as insurers will be falling over themselves to offer you the best and lowest rates with a clean driving record.
9. Accidentally speaking
Like traffic tickets, at-fault collisions are a real headache for years. Collisions stay on your record for at least six years. On your six-year anniversary of accident-free driving, however, a whole new batch of lower rates will be unlocked.
10. Ditching the commute
The daily commute to work is an everyday reality and when the distance of your commute changes, whether it's because you've retired, switched jobs, or simply changed how you get into the office (e.g. public transit) your insurance could change as well. By spending less time behind the wheel, you may find you could spend less on your coverage with a different insurer.
Don't Wait for Your Premiums to Decrease, Go after Them!
Why wait for lower premiums to make their way to you? In a single search, at Kanetix.ca, you can compare your lowest rates so you can be confident in what you're paying today. You've got nothing to lose, just money to save and it takes just a few minutes to find out who will give you the best deal on car insurance.