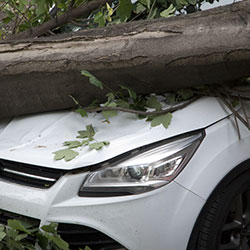 Severe thunderstorms—damaging wind gusts, hail and torrential rain—seem to be increasingly common. The Insurance Bureau of Canada (IBC) reports that in Ontario alone, severe weather has resulted in almost $1 billion in insured damages so far this year and there is still four months left to go. In the Prairies, damages have reached $200 million owing mostly to summer storms in Alberta, Saskatchewan and Manitoba.
These types of bigtime losses are becoming the norm, when once they were the exception, which has many people are asking themselves: When severe weather hits and causes damage to my home or auto will I be covered?
Wind, hail and water damage to your auto
Winds that topple trees. Hail the size of golf balls. Heavy rains that flood roads stranding drivers. Severe storms can cause considerable damage to your vehicle and these damages will usually be covered, but only if your auto insurance policy includes comprehensive or all perils coverage. Having either one of these coverage options will help offset the cost of repairs to your vehicle that are caused by something other than a collision—like theft, vandalism, or nasty weather. If you don't have this optional coverage but want to be sure your car is protected from the effects of foul weather, it may be worth adding to your policy.
Wind and hail damage to your home
Damage to your home caused by high winds or hail is usually covered by your home insurance policy, and this includes if your home is damaged by falling trees or branches. In fact, damages to your house caused by any debris whirling about would likely be covered too, unless it's due to lack of upkeep or maintenance.
Water damage to your home
Coverage for water damage to your home can be complicated, as there are a variety of ways it can enter the home. The cause behind why your home flooded may determine if you're safeguarded financially for damages caused by severe weather flooding, as will the policy options you may, or may not, have purchased.
The cause: Overland floods
An overland flood occurs when a water body (like a lake or river) breaches its normal banks; it may also include surface water that's the result of a heavy, torrential downpour.
Up until recently, damages caused by overland flooding were not typically covered; however, a growing number of home insurers have introduced an overland flooding endorsement that, if available, can be added to a policy. It's important to keep in mind however, that this coverage won't likely help if your basement leaks because the foundation has cracks, for example, as this suggests that maintenance could have prevented the water from entering the home.
The cause: Sewer back-up
A sewer back-up occurs when the city or municipal drainage system overflows and sends water back through the pipes and into your home. This may happen for a variety of reasons, but the most common is a torrential rainfall that overwhelms the system. If your sewer backs up into your basement, you will typically be covered, so long as your home insurance policy includes the sewer back-up endorsement.
Tips to minimize water damage to your home
The IBC has prepared a number of consumer brochures to help you avoid or minimize flood and water damage and the following is a compilation of some of those tips:
Avoid storing valuables or important documents in the basement.
When undertaking maintenance or home improvement projects in the basement, look to use water-resistant building materials.
Install a sump pump with a back-up battery should the power go out.
Look into installing backflow valves to prevent a sewer back-up from entering your basement.
Make sure your yard is properly graded so that water drains away from the base of your house.
Regularly clean and maintain your eavestroughs and gutters.
Make sure downspouts extend at least six feet (about two metres) from your home.
Don't let water damage rain on your parade. Be sure you know what generally is and isn't covered under your home insurance and auto insurance policy. And if you find you're not happy with the coverage you have, or the price you're paying for it, remember you have options. At Kanetix.ca, you can compare quotes for both your home and auto insurance needs to find coverage that will help you weather the weather.