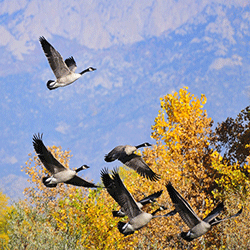 Snowbird travel insurance costs increase due to weak Canadian dollar and rising U.S. health-care costs.
Snowbirds from across Canada who are heading south this winter will likely feel a chill when it comes time to pay for the snowbird travel insurance coverage they need. It's been estimated that the cost of coverage this year will be about 12 to 15 per cent more than it was last year.
Why are snowbird travel insurance rates going up?
The weak Canadian dollar and increased costs of health-care in the United States are the underlying factors being cited for the rising costs of snowbird travel insurance.
Alex Bitner, president of the Travel Health Insurance Association of Canada told the Toronto Star that U.S. health-care costs are rising about 6 per cent a year, while the lagging loonie makes the cost of care more expensive as claims are paid in U.S. funds.
This is the second year in a row that snowbird travel insurance rates have increased in the double digits. Last year, it was reported that premiums were 10 to 12 per cent higher than in 2013.
Did you know? The state where you choose to winter won't typically affect your premiums. For example, a snowbird leaving Canada who lives in Ontario often pays the same rate if they're heading to Florida or Arizona. This would be true for snowbirds across Canada from B.C to Ontario, Quebec, and to Newfoundland and Labrador.
Three ways to spend less on your snowbird travel insurance
Hands down, one of the best ways to spend less on your snowbird travel insurance is to shop around. For snowbirds, who typically go away for several months at a time, premiums from one provider to the next can vary by hundreds of dollars.
While price is important, you also want to compare policies to make sure you have the coverage you need. At Kanetix.ca you can easily compare snowbird travel insurance plans as well as quotes. This is especially important if you've got a pre-existing condition as eligibility and stability periods (the time needed for a condition to be considered stable and controlled) will vary by insurer.
Another way to lower your premiums is to consider a deductible. We're all accustomed to deductibles on our auto insurance or home insurance, but travellers are less likely to consider them with their travel insurance policy. A common deductible on a snowbird travel insurance policy is about $250 and can save you typically in the range of five to 10 per cent.
Finally, if you're a snowbird who goes away for a month or two here, and a month or two there, it might be worth looking at a multi-trip travel insurance policy. The cost of one multi-trip policy (that's valid for a year's worth of travel) will often cost less than buying a policy each time you go away.