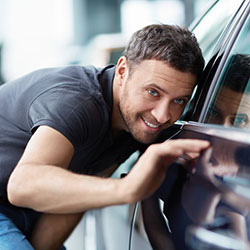 Luxury cars are some of the most high-tech, high-end, and top-quality vehicles on the road. Most luxury brands boast about increased comfort, safety, and performance; and, can be seen sporting superior materials, top quality speakers, deluxe navigation, and a list of customizable features. Not only that, they are visually appealing with their prestigious and sleek designs.
The Most Popular Luxury Cars
If you are in the market for a high-end vehicle, you may want to know what the hottest commodity is. We count down the top 10 most popular luxury cars compiled by J.D. Power (based on calendar-years sales for 2018). The most popular car may surprise you.
10. Acura TLX
MSRP: starting at $37,490
The Acura TLX is considered to be a performance sports sedan and has the lowest starting purchase price on this list. Available in four-cylinder or V6 engine, eight-speed dual-clutch transmission or nine-speed automatic transmission, with advanced steering technology.
Additional tech and sound options include, Apple CarPlay and Android Auto, wireless charging, remote engine starter, and personal key fob settings that can remember the tiniest detail down to the cabin temperature.
AcuraWatch comes standard on the TLX, providing advanced safety and driver-assist technologies. Some of these features are Forward Collision Warning and Collision Mitigation Braking System, Lane Departure Warning, a multi-angle rearview camera and more.
There are countless other dealer-installed accessories to choose from.
These specifications are based on the 2019 model.
9. BMW 4 Series
MSRP: starting at $53,550 (based on the Coupé and Gran Coupé)
The BMW 4 Series comes in the Coupé (sedan), Gran Coupé (hatchback), and Cabriolet (convertible). Available in four-cylinder or six-cylinder petrol engine. Featuring an eight-speed Steptronic Sport transmission, allowing for both automatic gear selection, as well as manual shifting, using the gear lever or gearshift paddles.
Additional technology specifications include BMW Connected App., Apple CarPlay, a wireless charging dock, and advanced network connection capabilities. The BMW Head-Up Display projects information, such as the speed, directly into the driver's field of vision, so their eyes are always on the road.
Driver's can choose from a variety of modes including ECO PRO, adjusting their drive to be as fuel-efficient as possible.
These specifications are based on the 2019 model.
8. Audi A4
MSRP: starting at $39,800
The Audi A4 is available in both front-wheel drive and all-wheel drive and features a seven-speed S-Tronic transmission. This allows the driver to switch to a manual mode, with paddles on the steering wheel.
Advanced technology lets the touch screen recognize handwriting. So, drivers can input their destination with a simple flick of the wrist. Additionally, Audi connect provides assistance tools such as car finder, remote vehicle services, and roadside assistance.
Optional add-ons include a head-up display, featuring a full-colour projection on the windshield for reference; and Audi traffic jam, offering steering, breaking, and acceleration guidance, and maintaining a safe distance between the vehicle ahead.
These specifications are based on the 2019 model.
7. Infiniti Q50
MSRP: starting at $43,995
Choose between two V6 engines, providing either 300 or 400 horsepower. Direct Adaptive Steering - a digital steering system - is unique to Infiniti and the world's first of its kind. Although, this capability is only optional on the 3.0T Sport AWD, 3.0T I-Line Red Sport AWD, and 3.0T I-Line Red Sport Proactive AWD packages.
Drivers can really customize this car for their comfort by storing up to 200 settings, from audio-visual preferences, navigation, and temperature. Apple CarPlay and Android Auto capabilities allow drivers to access maps, messages, and more. An optional 16-Speaker Bose Performance Audio system can also be added to almost every package.
This car offers INFINITI Driver Assist Technologies, monitoring the road and stepping in automatically to react faster. This feature improves forward emergency braking and has back up collision intervention. The Infiniti Q50 can predict forward collisions and has intelligent cruise control, distance control assist, and lane departure.
These specifications are based on the 2020 model.
6. BMW 5 Series
MSRP: starting at $63,000
The German made BMW 5 Series boasts about supreme acceleration and CO2 emissions, from the Intelligent Auto Start Stop function to the BMW EfficeintDynamics strategy. BMW aims to minimize fuel consumption and CO2 emissions by using their lightweight construction, aerodynamics, and energy-efficient measures.
The BMW 5 Series features Apple CarPlay capabilities and a Concierge Service, keeping drivers connected in every possible way. Further benefits include the Driving Assistant Plus, for automated driving in traffic jams, slow-moving traffic, or long journeys. Not only that, driver's can use the Remote Control Parking function, from their BMW display key, to park their car from outside their vehicle. They can also view information directly from the windshield with the Head-Up Display.
Drivers can charge their phone with the wireless docking station and receive enhanced reception through the roof aerial connection. Wi-Fi connection is also an optional feature, with fee-based hotspot plans.
These specifications are based on the 2018 model.
5. BMW 3 Series
MSRP: starting at $48,900 (Touring), $49,000 (Sedan)
The current BMW 3 Series Sedan marks the seventh generation of this vehicle. It is also available in the BMW 3 Series Touring (hatchback/wagon), and the BMW 3 Series Gran Turismo (larger sedan).
Currently available in the Sport Line, M Sport Package, and BMW M3401 XDrive, the BMW 3 Series has a lot to offer. BMW ConnectedDrive features voice recognition to allow drivers to use their car like a personal assistant. The artificial intelligence software learns driver's behaviours and can help out. The Automate My Habits feature can adjust driver's preferred settings on request.
This car can perform certain functions just by gesturing at the control panel, by speech, or by touch. Safety features include Driving Assistant, Parking Assistant Plus, and the Head-Up Display. These technologies provide side collision protection, a lateral parking aid, and much more.
The technology in the BMW 3 Series provides luxury and functionality, with a Harmon Kardon surround system, front and rear seat heating, and automatic tailgate operation. Additionally, a Digital Key (smartphone access), allows drivers to share their car with family and friends. Although this feature is provided on a one-year term.
These specifications are based on the 2018 model.
4. Mercedes-Benz E-Class
MSRP: starting at $63,100 (based on the sedan)
The Mercedes-Benz E-Class is the most expensive car on this list. This car features Car-to-X technology, connecting drivers to a central resource centre for driving conditions ahead. Drivers can also report hazards to help others with the same program.
The Mercedes-Benz E-Class features a PRE-SAFE Sound system. This technology reacts to impending collisions by emitting "pink noise" to protect against the loud noises of an accident. Further safety features include a radar-based Active Brake Assist, Blind Spot Assist, a rearview camera, and ATTENTION ASSIST.
Not only that, an optional PRE-SAFE Impulse Side system can prepare drivers for an impending side impact. An available Active Distance Assistance, DISTRONIC, can stop and go with the flow of traffic and change lanes with the touch of a turn-signal.
Additional technology includes, COMAND navigation, a touchpad controller, Apple CarPlay and Android Auto, and 64-colour LED ambient lighting. This car even has aromatherapy and a hot stone massage feature.
The Mercedes-Benz E-Class is crafted with exotic yet sustainable woods and features ergonomically contoured seats. It doesn't get more luxurious than that.
These specifications are based on the 2019 model.
3. Mercedes-Benz C-Class
MSRP: starting at $46,400 (based on the sedan)
Mercedes-Benz describes this car as having, "countless technological advances in seductive style." This may be in part to the sleek shape and the numerous wheel and hand-finished trim options.
The steering wheel is outfitted with a series of functions so the driver can shift gears or answer the phone while staying in control. The C-Class features a turbo engine, 9G-TRONIC transmission, and five modes for different types of driving including ECO and Sport.
Luxuries include, driver assist and other user-friendly technologies. Additionally, drivers can choose from 64 colours of LED ambient lighting for the cabin of the car. Much like the other vehicles, it is Apple CarPlay and Android Auto compatible and there is wireless charging. Wi-Fi is also optional for an additional monthly fee.
These specifications are based on the 2020 model.
2. Lexus ES
MSRP: starting at $45,100
This car is available in ES 360 (gas) or ES 300 Self-Charging Hybrid Electric versions. Both versions can be customized with a series of packages.
Some features include, automatic high beams, Pre-Collision System with Pedestrian Detection and Bicycle Detection, and Lane Tracing Assist. This car has Apple CarPlay and Android Auto capabilities, Lexus Enform Display, Audio with Remote, and Lexus Safety System+ 2.0.
This car doesn't claim industry-first technologies or perks; however, it features exquisite interiors and was awarded the Vincentric Best Value in Canada award in 2019.
These specifications are based on the 2020 model.
1. Tesla Model 3
MSRP: starting at $55,990
The most popular luxury car is the Tesla 3. This vehicle is fully-electric and has standard, long-range and performance battery options. This car can hold five passengers and is available in all-wheel drive. So, you may think this car is not all that special. However, this car is like no other currently on the market.
The dash has a 15-inch display which is designed to improve with Over-the-air software, introducing features and functionality. Drivers can also use their smartphone as a key. The rear, side, and forward-facing cameras; the forward-facing radar, and 12 ultrasonic sensors help detect objects, prevent potential accidents, and assist with parking.
Not only that, the Tesla 3 offers full self-driving capabilities to navigate on autopilot, summon your vehicle from across the parking lot, autopark, and auto lane change. However, this feature may not be legal everywhere. Drivers should check the local laws and with their insurance company.
These specifications are based on the 2019 model.
Compare Auto Insurance
Whether you plan to buy a luxury car, a basic sedan, or a minivan, you should inquire about auto insurance rates as you shop around. The year, make, and model of a vehicle can affect the premium you'll pay. At Kanetix.ca, you can compare auto insurance from over 50 providers instantly, so you can be confident you are getting the lowest rate.