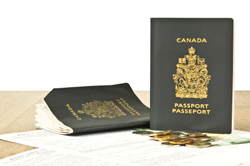 Travel smart and travel cheap; with these travel tips, you can spend less time watching your wallet and more time taking in the sites.
Pack less, pay less
Packing poorly can cost you...literally. It's already hard enough that in this day and age, very few airlines still offer one checked bag for free. But if you can't fit everything into your suitcase and need to take two, surely, you should count on paying double. Fees vary, but bag service fees (if applicable) usually range in price from $20 to $70 per bag.
Travel light, save money
Even though you may be travelling with just one item of luggage, if it exceeds the allowable weight, you'll pay dearly for it. Generally, to avoid hefty fees for an overweight bag, your packed luggage must weigh less than 23kg (or 50lbs). And if it's over? Expect to pay anywhere from $30 to $100 more.
Get travel insurance
No matter how short your trip, or how close to home you'll be, you should never travel without travel insurance. The cost of medical treatment abroad can be devastating. But if you fall ill or are injured while you're away, travel insurance will save you more money than the premiums you paid. Travel insurance is not where you want to cut corners.
Travel often? Consider an annual, multi-trip travel insurance policy
An annual, multi-trip travel insurance policy gives you the emergency medical health insurance coverage you need for each trip you take within a 12-month period. Annual travel insurance policies come with a variety of options for trip lengths, with one week, two weeks, and one month being the most popular options. If you're a frequent jet-setter, an annual policy can also save you money in travel insurance premiums over buying a single-trip policy every time you travel.
Don't pay the price for pint-sized
Travel-sized toiletries are great for helping you travel light, but they can be costly. Instead of buying these pre-filled pint-sized travel companions from the drug store, go to the dollar store and buy empty travel-sized containers that you can fill with products you already have at home. In no time, you'll recoup your initial investment (of about $5) and you can re-use them on future trips too.
Get a travel rewards credit card
If you don't already have a travel rewards credit card, you're missing out on one of the easiest ways to travel cheap. And, depending on the credit card you choose, the points (or miles) you accumulate can add up and often be used towards anything travel-related - so not just flights, but also hotels, car rentals, tours and more.
ABM fees can put a dent in your account
Call your bank if you're planning on using ABMs while on vacation; you may be surprised at how much this convenience will end up costing you. Transaction fees, additional withdrawal fees (for using a non-affiliated ABM), and foreign currency conversion administration fees may all apply.
Only you should be roaming, not your phone
The pay-per-use fees for voice, data, and text messages are cost prohibitive and add up quickly when travelling. Avoid paying exorbitantly high fees by getting a travel bundle plan from your service provider. Listed are the big three in Canada with links: Bell Canada, Rogers Communications, and Telus.
Advance seat selection will cost you
Many airlines nowadays offer you the opportunity to pick your seat well in advance of your travels, for a fee. But typically, you can still choose your seat during the check-in process the day before your trip. Save anywhere from $20 to $40 per flight by selecting your seats during check-in, rather than in advance. If you check in early enough, you'll likely have a ton of seat options.
Pack snacks
You'd be surprised at the inflated prices for items beyond the security check point at the airport. While you typically can't carry drinks and other liquids through security, there's nothing wrong with bringing some fruit and a sandwich in your carry-on to snack on while you wait to board or even mid-flight.
Travel smart, travel cheap
Cheap travel doesn't mean that you have to travel to destinations you're not interested in, stay at accommodations you don't like, or eat poorly while you're there. In fact, cheap travel - in this one traveller's opinion - means smart travel. Plan accordingly, pay for what's important, get the most out of what's easily available to you and avoid falling prey to unnecessary fees and surcharges.
Travel Insurance Savings Tips