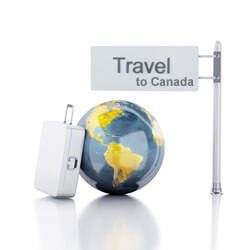 Like any good neighbour, the United States is Canada's biggest contributor to tourism.
It will likely come as no surprise, that of all the people coming to visit Canada, residents of the United States are the most represented; but, what other countries may have Canada on their radar as a vacation destination?
Who is most likely to stop you for directions?
The following are the top 15 countries whose residents visit Canada according to the Statistics Canada:
United States
United Kingdom
China
France
Germany
Australia
Japan
South Korea
Mexico
India
Hong Kong
Netherlands
Italy
Switzerland
Brazil
Destination Canada!
First, the serious stuff: travel insurance.
No matter where the plane took off from, visitors to Canada travel insurance can ensure that a visit to Canada isn't remembered for all the wrong reasons. Canada's well known health care system does not offer free medical care to visitors or tourists. For vacationers coming to Canada, health care can be costly without visitors to Canada travel insurance coverage. It's simply, a smart purchase.
Now, the fun stuff. If you have friends or family coming to visit you this winter the following travel resources will help you plan their stay:
Looking for more information about visitors to Canada?
Updated annually to reflect Statistics Canada's most current information available on the travel trends of visitors to Canada.