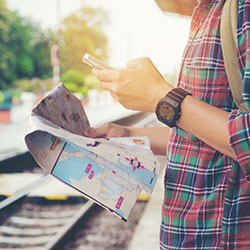 Where in the world are travellers going when they want some "me, myself, and I" time.
Every now and again you just need some "me, myself, and I" time and for many people this means packing your bags and going on vacation blissfully alone. It's a trend that has taken off the last few years and a recent survey found that 36 percent of North American travellers occasionally go it alone when going on holiday.
"The desire to travel among North Americans is stronger than ever," said Travel Leaders Group CEO Ninan Chacko in a press release. "Across our network of more than 52,000 travel advisors, we are seeing increasing interest in specialty travel such as culinary-focused, heritage journeys and bucket list destinations. Further, many people are not willing to forgo vacations because they have no one to travel with or, in many cases, simply prefer to travel on their own."
The survey found that among solo travellers, 40 percent take in the sights on their own, 25 percent join an organized travel group, while 35 percent like a bit of both worlds and participate in one or more guided tours over the course of their holidays.
Most popular destinations for Canadians travelling solo
As our closest neighbour, the U.S. is the most popular destination for Canadian travellers vacationing on their own according to Kanetix.ca, followed by travel within Canada's own borders. However, if you want to explore beyond these boundaries we turned to the experts—travellers who compared travel insurance quotes—to see which other popular destinations top the list for solo travellers.
United Kingdom
Italy
Cuba
France
Mexico
Dominican Republic
Portugal
Germany
Spain
Greece
Ireland
Netherlands
Japan
Solo travel safety tips
In a separate survey, released by Intrepid Travel, three-quarters of Canadians polled about solo travel said safety was a concern, but that didn't stop the 41 percent of survey respondents from vacationing on their own.
Any type of travel, no matter where you go, requires that you keep safety top of mind and for solo travellers it's especially prudent to:
Plan ahead and research your destination. Learn as much as you can about local customs, laws and currency conversions. The more you know before you go, the better.
Pack lightly. You'll be more mobile if you limit your luggage to the necessities.
Know how to get to your accommodations once you've landed. If you'll be taking public transit, familiarize yourself with the system, stops and fares, and give yourself plenty of time.
Plan your day and know where you're going, what you're doing, and how you'll be getting back to your accommodations.
Stick to public spaces and do not let your curiosity lead you to unknown, or isolated, areas.
Carry a map with you but be discreet while looking at it. If you're lost, duck into a restaurant or shop to look at your map and to get your bearings.
Trust your gut. If you're feeling uncomfortable about anything, whether it's a street, bar, park, restaurant, hotel, or taxi, trust your intuition and make your way to a place where you feel at ease.
Don't let alcohol impair your judgement. Limit how much you drink.
Keep in regular contact with family and friends at home. Provide them with an itinerary of your travels and the details on how you can be reached along the way.
Don't share too much with the people you meet. No one needs to know you're travelling alone or where you're staying.
Wherever your travels take you, travel safe and travel smart
Travel insurance is one of the most important items you can pack when you go on holiday. Whether you need just emergency medical coverage or a policy that includes the works (including trip cancellation and luggage loss), get travel insurance quotes within minutes. It's easy to travel care-free knowing you're protected.