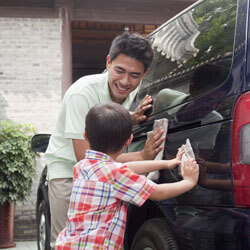 Minivans have a funny status among Canadians. You either love them or you hate them. Yet, after more than 30 years of family-friendly style, the minivan continues to be the vehicle of choice for many parents.
Families on a budget need to look beyond seating capacity and extras like stow-away storage and back seat entertainment systems when buying a new minivan. Fuel-efficiency is important too, as is auto insurance.
In keeping with the cost-conscious nature of the typical Canadian family, we've included the estimated spend on fuel each year* so you can gauge how much it will cost you to run to and from school, practice, doctors, and lessons.
Canada's Best-Selling Minivans in 2018†: Dodge Grand Caravan Leads the Pack
Dodge Grand Caravan

The cost of gas will run you about $2,407 per year, however, some Dodge Grand Caravans run on ethanol (E85) and fuel pricing for these models is not available.
Toyota Sienna

Expect to spend in the range of $2,203 to $2,387 per year for fuel.
Honda Odyssey

Expect to spend about $2,162 to $2,183 per year for fuel.
Chrysler Pacifica

Expect to spend in the range of $2,162 to $2,224 per year for fuel.
Kia Sedona

Expect to spend in the neighbourhood of $2,346 per year for fuel.
Buying a minivan in 2019? New or used, compare minivan auto insurance quotes to save.
While budgeting for the gas you'll need to keep your family moving is a good idea, don't overlook the cost of auto insurance. You can save more money by comparing auto insurance quotes than you can cutting coupons. Compare quotes at Kanetix.ca to ensure you are getting the best price for your insurance coverage.
Choosing a new vehicle to buy can be complicated; let us help you make your purchase decision easier.
Looking to buy a new or used vehicle, but minivans just aren't your thing?
* Annual estimated fuel cost is based on driving 20 000 km per year—a realistic distance for the vast majority of Canadians—at fuel prices that are estimated to be $1.292/L for regular, $1.474/L for premium, and $1.289/L for diesel. This information comes from Natural Resources Canada's Fuel Ratings Tool. Keep in mind that consumption varies within a model due to options chosen when the car is purchased, as well as how you drive, traffic, and road conditions.
† The sales data comes from Good Car Bad Car Auto Sales Data.