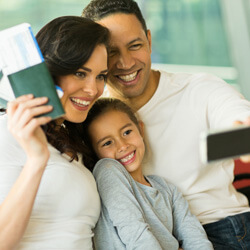 There is a lot to prepare for as you get ready for a week away from the daily grind. There's luggage to pack, travel insurance to buy, and prepping your home so it's protected while you're away.
Every year, thousands of Canadians weary of winter set their sights on the upcoming March Break holiday. Last year, Toronto's Pearson Airport estimated they'd see 130,000 travellers on the Friday prior to March Break; well over what they see on a typical day. You can expect all airports across the country to be busier than normal. Are you ready for the crowds? How about going through security clearance?
Every passenger must pass through security clearance before embarking on their trip, but the process can be involved, and it pays to be prepared. Breeze through security, stress-free, by keeping in mind these tips from the Canadian Air Transport Security Authority (CATSA).
Give yourself enough time
There will be crowds, and the airport will be busier than normal. Generally, it's recommended that you arrive at the airport two hours before a domestic flight, and three hours prior to your flight if you'll be leaving the country.
Remember the 100 ml rule
If you want to pack any liquids, aerosols or gels into your carry-on luggage there are restrictions. These products must be in a container no larger than 100 ml, and can all fit into a clear, closed and re-sealable plastic bag with a capacity of no more than 1 litre. Each passenger is allowed one, clear re-sealable plastic bag.
There's no need to go hungry
It's a common misconception that you're not allowed to bring food with you. The truth is, you are allowed to bring solid food items such as sandwiches, cookies, fresh fruit and granola bars in your carry-on bag to eat on the plane. However, it's best to eat it all before landing. If you want to bring non-solid food, like yogurt, pudding or peanut butter, these items will have to adhere to the 100 ml rule above.
Travelling with a child under two? Essentials like baby food, milk, formula, water and juice are exempt from the 100 ml limit; however, they must be declared when going through the screening process. These items should be packed in your carry-on for easy access.
Bring appropriate toys
Pack toys for your children in your carry-on, but leave toys that look like weapons at home.
Keep your electronics nearby
It's generally recommended that you keep fragile or expensive items with you in your carry-on baggage. Electronics like cell phones, MP3 players, e-readers, handheld gaming devices and tablets do not typically need to be removed from bags when going through the security checkpoint; however, laptops do need to be unpacked and placed in a bin. Although permitted on board, air carriers may vary in when, or if, they can be used.
Dress for success
What you wear, may affect the time it takes you to get through security if you set off the alarm on the walk-through metal detector. You'll get through security faster if you:
Limit the jewelry you wear to the basics: earrings, watches and rings.
Remove hidden body piercings before you leave for the airport.
Avoid wearing clothing, shoes or belts that have any metal (buttons, studs, arches, steel toes, buckles etc.)
Dress comfortably with easy-to-remove outwear, jackets and belts.
Travel smart. Travel with travel insurance
While the tips from CATSA can help expedite the air travel process, it's also important to remember that no matter where your plane lands, you've packed your travel insurance coverage alongside your passport. Travel insurance is not a nice-to-have, it's a must have. The Government of Canada strongly encourages travellers to "Say Yes to Travel Insurance!" because:
Your Canadian health insurance is almost certainly not valid outside of Canada.
Your provincial or territorial health plan may cover nothing or only a very small portion of the costs of medical care abroad, and never up front.
Foreign hospitals can be very expensive and may require immediate cash payment. You could face years of debt paying off the costs of treatment for an illness or accident you suffered abroad.
The Government of Canada will not pay your medical bills.
When you're away from home, even a small accident or sudden illness can become a big medical expense. Compare travel insurance quotes and policies today, before you embark on your adventure.