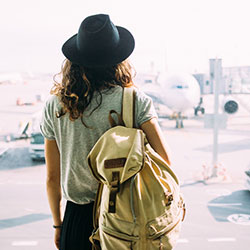 Clearing the air about travelling with cannabis.
With the recreational use of cannabis in Canada now permitted, are you allowed to take your legally purchased pot with you when you travel? The Kanetix.ca team has learned that the answer depends entirely on where your travels are taking you.
Travel within Canada
If you're travelling within Canada, and you're not crossing into the United States, you are allowed to travel with up to 30 grams worth of cannabis.
There may be rules however, on how you stow your stash so check in with your transportation provider before setting off. If you're flying to your destination, for example, you have options on where you can pack your cannabis; it can go in either your carry-on or checked baggage, according to the Canadian Air Transport Security Authority (CATSA). If you're travelling by Greyhound bus, on the other hand, you'll have to store it in your checked luggage that's placed under the coach, while VIA Rail thus far has not outlined a policy on where to pack your pot.
Know before you go
Cannabis consumption rules vary across the country and what's legal in your home province may not be legal in the province you're visiting. In Ontario for example, you're allowed to smoke up in many outdoor public spaces (like sidewalks and parks), but in Prince Edward Island it's currently restricted to private residences.
The legal minimum age also varies by province. In Alberta and Quebec, you must be at least 18, whereas in all the other provinces and territories the legal minimum age is 19.
All of this of course, is subject to change. Already in Quebec there's talk of raising the legal minimum age to 21, so before you embark on your Canadian travels find out what's legal, and what's not, at your holiday destination.
Travel beyond Canada's borders
No matter where you're travelling to outside of Canada, it is illegal to take your cannabis with you. It doesn't matter that you purchased it legally here or what the legal status of cannabis is at your destination, you'll be risking serious criminal penalties if you attempt to travel internationally with it.
The same is true on your return home; taking cannabis—or any product with cannabis in it—across Canada's borders and into the country is illegal.
Cannabis and your travel insurance
Wherever your travels take you, if you plan to consume cannabis while on vacation, do so responsibly and legally. If you're injured or become ill while on holiday because of the misuse or abuse of cannabis, a travel insurance claim for a trip to the hospital may be denied. This is not unique to cannabis, as it is true of alcohol too. A claim may also be denied, even if enjoyed responsibly, if cannabis is illegal at your trip destination. Make sure you know the local laws before lighting up.