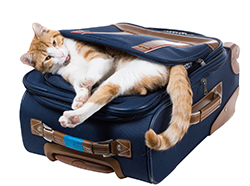 So you're going on a trip and you've decided to bring your cat along with you. Most cats don't like to travel and it is usually advised you leave them at home under the care of a trusted friend, family member or a professional pet sitter. However, if you do need to bring your feline friend with you-or if you are moving-there are a few tricks to help make the journey easier on both you and your cat.
The below article will guide you in what you should do before travelling with a cat.
Travelling With A Cat By Car
Your cat's safety is of utmost importance. The first thing you're going to want to do is:
Make sure your cat's carrying case is secured with a seatbelt
It is often recommended that when travelling with a cat, especially on a longer journey, you put them in a slightly larger crate that gives them enough room to get up and stretch their legs
Ensure there is comfortable padding at the bottom of the case that doesn't slide around
A few recommendations:
Don't feed your cat the morning of or before you go on your trip. This will ensure she doesn't need to use the washroom
If you are going on a longer trip, typically more than six hours, your cat will probably have to eliminate. You can purchase disposable litter boxes that your cat can use and then can be thrown in the trash. It is recommended you only do this when your car is stopped. Let the cat out inside the car, then put her back in the carrier
Take breaks to let the cat have water, especially if it is hot out, but don't leave the water in the carrier. It could spill and make a mess.
Some cats fare better when you put a blanket over their carrier. If your cat is crying, try this trick or, if the blanket is on and she is crying, do the opposite and try removing it
Make sure you get a health certificate for your cat from your veterinarian, as well as a record of vaccinations. This is especially important if you are crossing the border as they may be required to permit entry.
Travelling With A Cat By Plane
Check with your airline to ensure they allow for the transportation of pets. Most do, but it's important to note the procedures as they may vary by carrier.
For cats, there are typically two options:
The cat can travel with you at your feet in the cabin (soft sided crates are often recommended)
The cat can be checked and travel in the baggage compartment on the same flight as you
There are costs associated with both methods of travel, so be sure to familiarize yourself with the policies before you head to the airport. If you have any questions, talk to your airline before you confirm your itinerary.
It's important to note:
You will likely be required to present a certificate of health before your cat is permitted to board the plane
Depending on where you're travelling, this certificate may need to come from the embassy
Not all travel destinations welcome pets, so check with the country you're travelling to in order to ensure you can bring your cat along
Some airlines have limits on how many pets are allowed to travel with the baggage. Arrive early to ensure you get a spot. Otherwise, you may have to take a different flight or ship your cat through cargo
Make sure your cat's carrier is padded, secure and properly labeled with all contact information to ensure your cat doesn't get lost
Travelling With A Cat By Train
Most train companies in Canada allow you to bring your pets on board. However, they must typically be kept with the baggage. Before booking a trip by train, ensure you confirm that pets are permitted on the train. Just like with planes, there will be a fee associated with bringing your pet with you on your journey. Again, be sure you're aware of these fees before you depart.
Look After Your Cat When You Travel
If you need to make a stop or take your cat out of the carrier for any reason, including airport checks, be sure to snap a leash onto the harness before hand. That way if your cat freaks out, it's easier to grab a leash than a fickle feline. It's recommended you use a harness with clear identification because collars can come off too easily. However, remove the leash when the cat is in the carrier to prevent her from getting tangled.
Make sure you pay attention to the weather. If it's hot, ensure you have air conditioning or place ice packs wrapped in cloth in the case to help cool her down. If it's cold out, ensure she has lots of blankets.
If your cat is very panicky or cries a lot when she travels, talk to your vet about a possible sedative. Although this is controversial, your vet will have the best advice as to what is right for your cat.
Protect Your Cat When You Travel
If you're travelling by car, it should be noted that pets are not covered under a standard car insurance policy, which means it's a good idea to pick up pet insurance before you go on a road trip. Pets are not considered passengers under your auto insurance. If your cat were to be injured in a collision, your auto insurance would not cover their vet bills. While you might have a case through a third party suit if another driver is found to be at-fault, it's generally recommended you get pet insurance for your travelling feline.
Pet insurance policies can protect your cat-even when you're travelling, whether it's by plane, train or automobile. But, check with your pet insurance provider before you head out to be sure. Policies and coverage varies, but it's typical for policies to only allow for claims from registered veterinarians in the Continental United States and Canada only.
Compare coverage and rates for pet insurance today at Kanetix.ca.