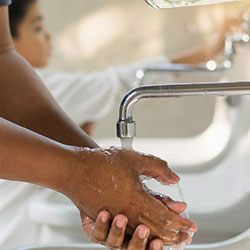 Nothing ruins a good time like getting sick on vacation, and as the saying goes, an ounce of prevention is worth a pound of cure. And there will be no need to worry, if you follow these eight easy tips to ensure a healthy holiday.
1. Get Vaccinated
Roll up your sleeves for your health care professional so they can vaccinate you against illnesses that may be common to the area where you are travelling.
2. Pack a Travel Health Kit
Pack a travel health kit that includes sunscreen, a hat, insect repellent, hand sanitizer, bandages, upset stomach medication, antibiotic ointment, pain reliever, antacids, and anti-nausea medication. Also, don't forget any prescriptions you need to take regularly.
3. Wash Your Hands, Often
Hands down (pun intended) washing your hands is one of the most effective ways to prevent illness while travelling.
4. Use Good Judgment When Eating Out
Eating your way through a town is a great way to learn about the culture, but there are some simple rules you should follow to make sure the local food doesn't come back to bite you:
Only drink bottled water
Avoid fruits you can't peel and vegetables that are uncooked
Skip the ice cubes that may have come from tap water
Avoid undercooked meats, food that is cold (but should be hot) and street vendors
If you want to be extra careful, you can even brush your teeth with bottled water. In some remote places, it's better to be safe than sorry.
5. Avoid Drinking Too Much
A tropical drink with an umbrella is one of the classic signs you're on vacation. While having a few drinks can be a lot of fun while on your getaway, don't overdo it.
6. Get Enough Sleep
When you're on vacation, it can be easy to stay up past your bedtime. While the occasional night out can be a great experience, make sure you catch up on sleep. A good night's sleep can make a world of difference and keep you at your best.
7. Get Some Exercise
We all know it can be tough to exercise on vacation, but it can work wonders for your health and help keep you from getting sick. All it takes is a brisk walk, every day, to help you fend off sickness. It's also a great way to tour your destination.
8. Slow it Down
Many travellers race from place to place at warp speed. They need to see it all! However, rushing around can stress both you and your immune system. Take it down a notch and you'll find you make better decisions about how you spend your time, money, and what you eat. Plus, it gives you more time to exercise and sleep.
Protect your holiday with travel insurance.
Following these tips can help you stay healthy on vacation. However, sometimes even the best laid plans can go awry. In those cases, make sure to protect yourself with travel insurance. You can travel with peace of mind knowing that if something goes wrong and you require emergency medical attention, you'll be covered.