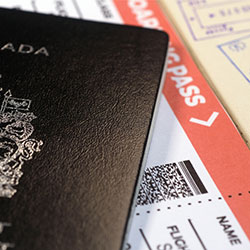 So you're tallying up costs for your next vacation and you're weighing whether to forgo travel insurance. After all, it's an extra expense (albeit minimal) -- and you might never need it. But staying protected in case of trip cancellation or medical emergency are not the only reasons to buy travel insurance. Some destinations now require proof of coverage before allowing you to enter the country. Before you go, check out the requirements so you're not denied a visa -- or turned away at the border.
Why is Travel Insurance Sometimes Mandatory?
Accidents and illnesses happen, and when they happen when you're on vacation, the medical attention you need comes at a price. The problem is that sometimes tourists can't or won't pay the hefty bills that comes with emergency health care services while abroad. A July 2019 article in Japan Times said 30 percent of travellers arrive without medical insurance, and about one in five Japanese hospitals have unpaid medical bills from treating visitors without coverage.
Some countries are therefore making it a requirement that visitors buy their own insurance. That way, it won't be the local government that foots the bill for treatment.
Are All Visitors Treated Equally?
It's becoming more common for countries to mandate that visitors have health insurance. But the requirements are a bit different depending on which passport you're travelling on. This is particularly important for Canadians who have dual Canadian-U.S. citizenship. Cuba, for example, requires U.S. visitors to have medical insurance from a non-U.S. insurer.
Canadian visitors, however, can enter Cuba just with their provincial health card. Even so, you will need travel insurance since your provincial plan will cover nothing, or very little, of the costs incurred due to a medical emergency outside of Canada. Any additional medical insurance Canadians carry must also be from a non-U.S. insurer in order to be valid due to the U.S. trade restrictions on the island nation.
Also, the length of your stay matters. Europe's Schengen area is made up of 26 countries, inside which Canadians can travel without a visa -- and without proof of medical insurance -- for up to 90 days in a 180-day period. A long stay in any individual country in the area, however, does require a visa for that individual country. Italy, for example, requires medical insurance with a value of at least 30,000 Euros as part of the long-stay application.
Which Countries Require It?
How do you know whether your destination requires health insurance? The simplest way to find out is to go to the Travel Advice and Advisories page run by the Government of Canada. Enter the name of your destination into the search box, and you'll find all you need to know about going there. Health insurance requirements are typically listed under the "entry/exit requirements" tab.
Finding the Right Travel Insurance
Insurance may be mandatory for your trip but it doesn't have to be expensive. Once you know how much coverage you'll need, check out the latest quotes on travel insurance at Kanetix.ca. Even when travel insurance isn't mandatory, it's important to protect yourself overseas as medical costs can skyrocket without the right coverage.