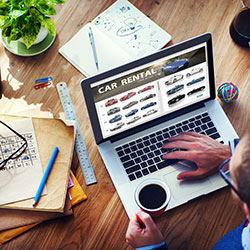 It never fails. You rent a car and then hear about a savings tip only after you return your rental. Hence, a few savvy tips can save you money and time. Car rentals are an affordable option if you're planning a road trip with friends and family or completing a work assignment in a different province. A rental is also often a time saver when compared to your public transportation options.
Here are a few tips and secrets that can make your car rental experience an even better one.
Watch Out for Added Fees
Some rental agencies charge additional fees on top of the rental price. Ask about these to avoid extra surcharges.
Fees might include:
If you're under the age of 25 or add a driver who is, will they charge a "young renter" fee?
Will they charge for adding drivers even if they're over the age of 25? Is a spouse or co-worker included in the rental contract?
What is the drop-off fee they charge for one-way rentals if you drop the vehicle off at another location?
What are the service taxes?
Is the mileage unlimited or is it per kilometre?
You'll also want to avoid fees from damage to the rental.
A few tips:
When purchasing your rental
Make sure the gas tank is full and inspect the vehicle for any dings or scratches. Document these and let the rental agent know. If there's no rental agent, (like if you picked up your vehicle at a car park), take pictures and send them to the rental company right away. You want it documented with the date and time to confirm the damage occurred before you picked up the vehicle.
When leaving with your rental
Make sure you have the vehicle rental documents, the insurance information, and your driver's licence. You'll want to carry these if you're pulled over for a traffic stop.
When you turn in your rental
Your rental should be inspected with you there and make sure the rental agent signs off on the inspection. This will help ensure you're not assessed extra charges for damage that may occur after you turned the vehicle in. For example, you don't want to be held accountable if someone opens the door on another vehicle and puts a dent in the vehicle you just returned.
Pick the Right Type of Rental
Rental rates can vary depending on the type of vehicle you need. Shop for your rental vehicle by the level of activity and then look for discounts.
Economy Rentals
If you want to save money with your rental, look for an economy vehicle (usually a compact or smaller SUV) that's fuel-efficient. You might find a Volkswagen Jetta or a Nissan Qashqai is all you need. These might cost $45 to 50 per day to rent. The cheapest rentals are about $10 per day but this is usually for very subcompact cars.
4x4 and SUV Rentals
Thinking of a scenic adventure to a park or other big travel destination? If you're heading to Banff or the Rockies, look for a durable 4x4 or an SUV with four-wheel drive (4WD). These might cost about $85 per day.
Note: Most car rental agencies don't allow off-road travel or towing. But, an alternative is to rent a vehicle and drive to a destination like Goldens, B.C. where you can rent an all-terrain vehicle. They have single track trails so you can play in the dirt and mud and have an amazing off-road adventure!
RV Rentals
Renting a recreational vehicle (RV) or camper is convenient. You won't have to book a hotel and you can travel when you want to. To help you save even more money, consider an RV that includes a kitchen. Rental prices can range from about $110 to 130 each day.
Other Ways to Save
Here are a few extra tips that can help you save money with your rental:
When booking your hotel, ask if parking can be included. Sometimes the front desk will allow this because they want your business. Parking might cost $15 per day and if you can have this fee waived, it's more money you save. Also, check the hotel's benefit/membership plan. It might include free parking. Or, shop for your hotel's "Park and Fly" packages. These might include free parking too.
Consider where you purchase your gas. You might save more on fuel by getting gas in a big city than in a smaller, remote area.
Review your rental agreement and remove "extra" items you might not need if you have them already. These might include a GPS, satellite radio and extra insurance (if you have an existing policy).
Return the vehicle in a clean condition to avoid an extra cleaning fee.
Avoid renting from the airport where prices might be higher. Instead, look for a rental company near your hotel and take the shuttle there. If it's not a free shuttle, check online for discounts.
Ask for a discount (CAA, Canadian Senior Discount, Canadian Military and Veteran).
Check the rental company's offer page or look for offers they have online.
Ask About Long-Term Rates (30-Days, 11 Months)
If your job has you travelling to different provinces and you need a rental vehicle for an extended period of time, ask for long-term rental rates. These are cheaper than renewing a rental rate week to week. For example, if you're renting for a few weeks, ask for the 30-day rental rate instead of renting a week and then adding another week or two.
The same can be said for yearly rentals. Let's say you need a rental for 11 months. Ask for this type of long-term discount instead of extending your rental each month.
Purchase the "Extra" Insurance
Your rental company will offer basic insurance. This is a collision damage waiver or CDW. They may offer extra insurance as well. Purchase this if you don't have your own auto insurance coverage. Why? If you're in an accident with the rental, the CDW will only provide a small amount of coverage for damages. You would pay out-of-pocket for the balance.
Also, if you're relying on your own auto insurance in anyway, contact your provider to confirm your current coverage does indeed extend to car rentals. You may have to purchase an add-on endorsement to ensure you're fully protected.
If you don't have your own vehicle and existing auto insurance there are other options you can explore, like:
Checking with your credit card company. Some credit card providers include basic rental car insurance as a benefit. However, be forewarned that it may not cover liability or injuries.
Shop Around for Day-Only Rental Rates
If you need a rental car only for the day, comparison shop. While rental vehicles might range from $10 for low-end economy vehicles to $200 for luxury vehicles, average prices are about $30 to $50 for each day. But, that's a $20 range. Remember, you still have to pay for gas so the extra money you save can go towards your fuel.
Refuel While You're Out. NOT at the Rental Agency
Most rental agencies require that you fill the tank back up when you turn your rental in. But, a good tip is to refuel while you're on the road and not at the rental agency as the rental agency's prices might be higher than at a local nearby gas station.
Make Sure Your Rental Has Amenities and Features You Need
When renting a vehicle, you might fall into one or two scenarios:
1. Renting a vehicle for work or a road trip
Do you have your own vehicle but you're renting a car or truck for work or a road trip? Renting isn't the same as using your own vehicle. With your vehicle, you'll make sure it's inspected before a trip and you'll confirm you have the proper auto insurance coverage (collision, comprehensive). Then you hit the road and go. But, you might forget that a rental may not include the features and amenities your vehicle does.
Or....
2. Renting a cheap vehicle based on the lowest price you find
Are you selecting your rental based on the cheapest price you find? Before you sign your contract, think about the features you want in the vehicle.
A few questions can help you make your decision, especially when you're travelling with colleagues, friends and/or family.
These include:
Are all your bags and gear going to fit? Will you need a bike rack, ski rack or luggage rack on top?
Do you need a child seat for the kids? Or, will you bring your own? Some airlines don't charge baggage fees for car seats.
Is GPS added or additional? Or, will you bring your own or use your phone's GPS?
Are you travelling outside your province? Is there an additional fee?
What kind of radio do they have? Are Sirius or Spotify offered? Are they included?
Is cruise control offered? Not every vehicle has this feature.
Are you travelling outside Canada? Will they allow cross-border travelling?
Note About U.S. Travel: If you're taking your rental to the U.S., (maybe to do some shopping), don't forget to purchase travel insurance. It's coverage if an unexpected medical emergency happens and you need to see a doctor. You'll also find there's flight interruption coverage and baggage coverage if the car rental is only part of your trip.
Get the Best Savings on Your Rental
The tips above give you a few ways to save on your rental. Check online for discounts and comparison shop for the best rental prices. Who knows? You might even extend your rental once you see how much money you can save!