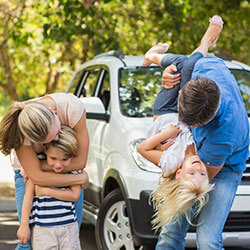 Where will your wheels take you this summer?
A road trip is the quintessential summertime vacation. With majestic mountains in the west, beautiful shorelines and delicious seafood in the east, and stunning lakes and cities in between, Canada is a country full of diverse landscapes.
Wherever you go this summer, there are many great places to see, stops to make, and things to do while on the road. We've picked a few popular places of interest to highlight in our Great Canadian Road Trip Stops and Tips infographic, but let's face it, Canada is a vast land, and there's no way to capture the thousands of beautiful stops across the country.
15 Road Trip Planner Tips
Take your car in for a maintenance check before leaving.
Clean your car, inside and out (don't forget the trunk).
Create an emergency kit for the car. Make sure it includes things like first aid items, a flashlight, reflective triangles or road flares, jumper cables, tire pressure gauge, sunscreen, and water.
Bring a spare car key, just in case.
Pack a real, honest-to-goodness road map.
Keep a roll of paper towels, hand sanitizer, and wipes handy for unexpected messes. A few garbage bags can be helpful too.
Carry your proof of car insurance, driver's licence and vehicle registration.
Make a schedule and decide on a route but be flexible and stay calm if things don't go as planned.
Don't drive for more than eight hours a day to avoid driver fatigue. If possible, share the driving responsibilities.
Let the driver drive and the navigator navigate. And, don't worry if you missed an exit, there's always another one ahead.
Don't drive distracted. Leave the phone alone.
Instead of eating while driving, pull into a town for a sit-down meal. This doubles as a nice rest stop too.
Research your trip but don't be shy to ask a local for recommendations on where to eat or stay for the night.
Get travel insurance. Whether you're a Canadian travelling outside of your home province, or a visitor to Canada, travel insurance can help when the unexpected happens.
Take lots of pictures but avoid posting them on your social accounts. That way you don't tip off burglars that your home is empty.
Road Trip Infographic: Where Will Your Wheels Take You?