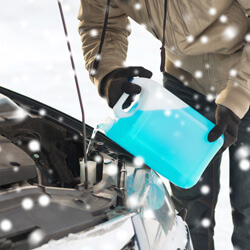 Slippery or snow-covered roads, reduced visibility and the cold: these are all conditions that can make winter driving difficult. They are also the conditions that can make getting stuck in the snow or a car breakdown treacherous if unprepared. But, with an emergency kit for your car, you could find yourself back on the road quicker if you run into problems.
Winter safety kit checklist
With flurries in the forecast for much of Canada, now is the time to put together your winter car kit. And, to help you get ready, we've listed a few of the most common items you should consider including in it.
Ice scraper and brush
Collapsible shovel
Sand, salt or kitty litter (non-clumping)
Tow rope or chain
Jumper cables
Warning light, roadside reflectors or road flares
Whistle
Road maps
Roll of paper towels
Flashlight and batteries, or a wind-up flashlight
Screwdriver and duct tape
Fire extinguisher
Candle and waterproof matches
First-aid kit
Blanket
Extra clothing, gloves, a hat and footwear
Emergency food pack (include non-perishable items like granola bars, nuts and bottled water)
Properly inflated spare tire
Wheel wrench and jack
Extra windshield washer fluid and antifreeze
While it may seem like a lot to haul around, you can pack your customized kit into a plastic storage bin (or two) to keep your trunk organized. That way, you'll know where to find everything. And, if you don't want to build your own kit, you can also buy one. If you decide to go this route, look over what's included in the kit and add any items that you think are missing and necessary.
You've looked after what's in your trunk, now it's time to look after what's in your glove box
No matter what the season, your auto insurance is there should anything go wrong, but, when was the last time you checked to make sure you weren't overpaying for it? Compare car insurance quotes today for a better price at Kanetix.ca.
Updated annually when the snow starts to fly.