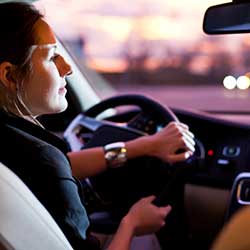 Tips to lighten the stress of driving at night.
Daylight is increasingly scarce at this time of year, and for many drivers this means getting to work, and home again, is done under the cloak of darkness. It's a reality that can't be avoided. It's also true, however, that night driving can be challenging, and sometimes we can all use a refresher on how to tackle the roads when driving at night.
Five safety tips and reminders for driving at night
With winter on the horizon and driving in the dark inevitable, the following tips will help you overcome the nocturnal challenges that lay ahead in the coming months.
1. Make sure you can see and are seen
Clean and repair windows, mirrors, and lights that are dirty, damaged, or no longer working. Pay special attention to your vehicle's headlights, tail lights and signal lights as these are absolutely critical to ensuring you can see and will be seen by others on the road. Also, if your wiper blades no longer clear the windshield properly, replace them.
2. Don't rely on your daytime running lights to brighten the way
Daytime running lights do not provide sufficient light when it's dark, even in well-lit urban areas. Use your vehicle's headlights to light the way at night, but be careful when switching over to your high beams. In general, your high beams should only be used in rural areas and only if it doesn't cause issues for other drivers on the road. If you're following another vehicle, if there is an approaching vehicle, or if you're coming to a hilltop or bend in the road, switch over to your low beams.
3. Don't overdrive your headlights
Your headlights only illuminate the road ahead of you so far and you should always be able to stop your vehicle safely within the distance you can see. Your low beam headlights, for example, likely only have a range of about 60 metres, but if you're travelling at 80 km/hour it can take up to 76 metres to come to a complete stop. At night, lower your speed to give yourself enough time to brake safely.
4. Glance to the right when faced with bright lights
When faced with the bright lights of oncoming traffic, avoid the resulting glare by looking slightly to the right edge of the lane you're travelling in until the car passes.
5. Look once and then look again
Vehicles without proper lighting, pedestrians, and cyclists are all harder to see at night which means you need to be absolutely certain that the way is clear when changing lanes or turning at an intersection. Make it a practice to double, even triple check, that the path is free because a quick glance just won't cut it when it's dark out.
Do your auto insurance premiums put you in a dark mood?
Lighten your mood (and the strain on your wallet) by shopping your rate for a better price. At Kanetix.ca you can compare car insurance quotes in just a few minutes to find a rate that will brighten your day.