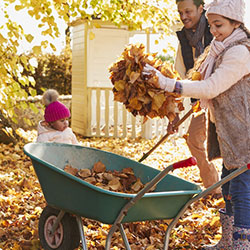 Don't forget to fall back this weekend and turn your clocks back one hour. Daylight saving time ends November 3, 2019 at 2 a.m.
The weekend most Canadians fall back one hour is also the ideal time to tackle seasonal safety projects. A lot of the routine maintenance on your home and car should be done twice a year, so what better time to start checking items off your "to-do" list?
Around the house
Replace the batteries in your smoke and carbon monoxide detectors, and test both devices to make sure they are in working order.

Tip: Don't toss the batteries; there may still be juice in them. They can be used in children's toys or electronic devices. Squeeze out every drop of power, then recycle them.

Check your furnace's filter and replace it if it is clogged or dirty. Your furnace filter should be cleaned or replaced every two months during the heating season.
Clear all your gear away from the furnace. Access to your furnace, and the area around it, should be clear of obstructions no matter what the season.
Clean gutters and downspouts to keep debris from accumulating. This is especially important now that the leaves are falling. If clogged, fall storms can wreak havoc and possibly cause leaks.
Bring out of hiding, all the winter gear you'll need to clear your walk, like shovels, sand and salt.
Have your chimney cleaned so your fireplace will be ready for use.
Flip or rotate your mattress to prolong the mattress's life and comfort.
Go through your medicine cabinet for expired medication. Your pharmacist should be able to either take your old medications or provide you with information about where to dispose of them.
Inventory your home's first-aid kit and replace items that are expired, or replenish items like bandages that may be running low.
In your car
Remove your golf clubs from the trunk and replace them with a winter weather car safety kit. You can buy one or make your own car kit.
Change your wiper blades. They should be replaced every six months.
A change of season equals a change of oil. This will help to ensure your car operates at peak efficiency.
If you change your tires seasonally, now is a good time to put your winter tires on if you haven't already. A good rule-of-thumb is to put your snow tires on when the temperature drops to 7° Celsius. Also, do not mix-and-match; install four winter tires.

Does your auto insurance rate include the winter tire discount? If so, typically the tires need to be on the vehicle from November to May.
Live in Quebec? Schedule an appointment to switch your tires before the December 1st deadline; otherwise, you could face fines ranging from $200 to $300.

If you don't change your tires seasonally, check your tire pressure and treads. If your tire pressure is off you'll notice irregular and uneven wear on your treads, reduced vehicle handling, or decreased gas mileage.
Take your car in for a tune-up because winter weather can really take a toll on it. A complete check-up can be vital in keeping your car running smoothly.
Pay less for your auto insurance. This is one item you can easily accomplish and could save you hundreds of dollars. All you need to do is compare auto insurance quotes to ensure you are getting the best price for your insurance coverage.
Get ready for the snow
You know it's coming, the snow, slush and cold weather. Don't get caught unprepared behind the wheel with the Kanetix.ca list of winter driving tips.