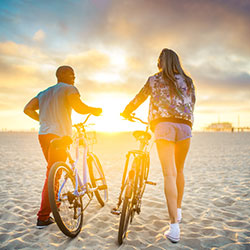 All it takes is a simple tumble to ruin your vacation.
It can happen to anyone. A simple tumble while walking on the beach, a missed step on a set of stairs, or a spill off your bicycle. It doesn't take much to land poorly and break your arm and, if it happens while you're on holiday, it could be costly without travel insurance. You might not think something as common as a broken arm would be financially devastating, but it is.
Real Travel Insurance Claims for a Broken Arm
No one plans on being injured while on holiday, but, the following real-life insurance claims for a broken arm while travelling beyond Canada's borders show how expensive medical care can be abroad.
| | |
| --- | --- |
| Destination | Travel Insurance Claim Cost ($USD) |
| Dominican Republic | $10,000 |
| Illinois, USA | $25,000 |
| Mexico | $33,000 |
| Florida, USA | $36,000 |
A broken arm could break your budget without travel insurance. And, if you're relying on your provincial health plan to cover the costs, you'll still be left with a hefty bill to pay. Your provincial health plan usually covers less than 10 percent of your bills, and if you live in Ontario, beginning October 1, 2019 none of the expenses you incur will be covered. Don't let your dream vacation become a nightmare. Protect your travels (and your money) with travel insurance.
How Much Does Travel Insurance Cost?
Ahem, certainly not an arm and a leg. In fact, it's a steal when you consider that the average cost of a vacation taken by Canadians amounts to $2,938 per person.
We compared quotes for travellers with no pre-existing health conditions going on vacation for a 10-day trip and the following were some of the best travel insurance rates provided. It didn't matter if the destination was the U.S., Mexico, Cuba, U.K., Italy, or France (all popular destinations for couples as well as solo travellers). The lowest rates quoted for each of the destinations were all for the same $5 million in coverage with no deductible.
Traveller(s)
Lowest travel insurance quote
20-year-old traveller
$20.40
A 35-year-old couple
$43.60
A family of four
$60.60
(Quotes are for illustrative purposes only and are subject to change. Your quotes may vary depending on your personal details. Family of four example is comprised of two 50-year-olds with two teenage children.)
Take a Break but Protect Your Travels
Let's be honest, chances are you won't need to rely on your travel insurance coverage. Even so, travel insurance is one of the most important items you can pack when you go on vacation. Whether you need just emergency medical coverage or a policy that includes the works (including trip cancellation and luggage loss), get travel insurance quotes within minutes.