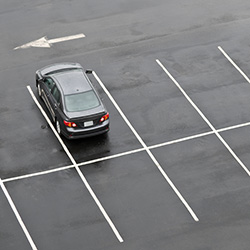 The precautions Canadian drivers take to protect their ride.
When you pull into the parking lot of your local grocery store, do you park as close to the entrance as possible or near the back of the parking lot where the parking spots are plenty? If it's at the back of the parking lot where there are fewer cars, then you're not alone. According to a recent survey from TD Insurance, 28 per cent of Canadian drivers admit that they've parked as far away as possible from other cars to minimize the risk of damage to their own vehicle.
In fact, the survey found that about 70 per cent of drivers take some sort of added precaution to minimize the risk of a collision or damages to their vehicle. So, if you take a route less travelled to avoid other drivers or park in no-man's land at your local shopping centre, you're in good company.
One-quarter of drivers try to avoid rush hour traffic
The survey also found that 25 per cent of drivers try to avoid driving in rush hour to minimize the risk of a collision. Traditionally, the evening rush hours (from 3 p.m. to 6 p.m.) are the most accident prone time of day. However, if you're looking to further minimize the risk of a collision, it's not the morning rush that should be next on your list to avoid, it's the three hours following the noon hour. According to Transport Canada's National Collision Database (NCD), there are more instances of collisions from noon to 3 p.m. than when most drivers are heading into work for the day.
The worst day to be on the roads, according to the NCD, is Friday. In general, there are more police-reported collisions on this day than any other.
17 per cent of drivers are leery of trees
The weather can be fierce and when a severe storm topples a tree the damage can be considerable. It's likely for this reason that one in five survey respondents (17 per cent) admit they try their best to weather the storm by purposely parking their car away from trees to ensure their vehicle isn't hit.
Of course, it's not always possible to steer clear of trees when picking a parking spot. And for times like these any damages caused by a fallen tree or branch will usually be covered, but only if your auto insurance policy includes comprehensive coverage. This type of coverage is optional, so if damages caused by foul weather and fallen trees is a concern, it may be worth adding to your policy.
Minimize the risk of overpaying for auto insurance. Shop your rate today.
While taking added precautions to protect your car from damages, don't forget to protect your wallet too. You can use Kanetix.ca to compare car insurance quotes so that you can find the lowest rates.