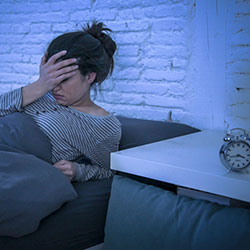 A recent Belairdirect survey found that about 48 percent of Canadians are losing sleep over thoughts about their home insurance. Another 49 percent polled report losing sleep over auto insurance. But why? The survey noted that most car and homeowners are fairly knowledgeable about their insurance coverage but expressed they need more information to better understand their policies.
The Insurance Survey's Findings
While about 23 percent of Canadians surveyed report not reading their home insurance policies, another 25 percent haven't read about their auto insurance coverage. Even so, the concerns home and vehicle owners say they have is focused on two areas: what policies include and the overall costs of the policies.
Other findings include:
About 3 in every 10 people that live in Canada find their policies tedious but required. They compared it to a long work commute.
About 1 in 10 Canadians aren't sure if their coverage will protect them from animals or vermin. While 8 percent were unsure about rodent damage to their homes, another 10 percent weren't sure about coverage if a moose hit their vehicle.
Nearly 16 percent of those surveyed stated insurance policies are like a movie you find boring but must watch until the end.
Another 31 percent surveyed stated they haven't taken an accurate inventory of the items in their home for insurance purposes. About 36 percent thought they would be covered for sewer back-up damage and another 4 in 10 thought they were automatically covered for every item in their home.
Almost 38 percent assumed they would be covered by insurance if an item like a drone hit their vehicle and another 39 percent assumed they would be covered if golf clubs were stolen from their vehicle.
What's Covered and What's Not?
While Canadians aren't always reading their policies to know what's covered, the majority of items they might be concerned about are likely included in their policies. Most home and auto insurance policies cover the valuables a person owns with a few exceptions.
Items that have high dollar amounts, i.e., replacement value, may not be covered to the full amount. Hence, this is one area where you need to call your insurer to confirm you have adequate coverage.
Valuable personal property might include:
Collections like stamps, sports memorabilia, antiques, dolls or artwork
Expensive jewelry and boats and other items like golf clubs, high-end cooking equipment, bikes, and cash
Supercars, restored cars and antique automobiles
Losing Sleep Over Whether Insurance Covers Expensive Personal Property? Follow These Steps...
To help the homeowner or car owner recoup the full value if their items are stolen or damaged, here are a few recommendations:
Contact your insurer to determine if your items are covered based on their full value. This may require you taking a full inventory or itemizing your most expensive possessions like that prized artwork. If they will cover the full value, great. You can sleep easier. If your insurer won't cover the full value, proceed to step two.
Consider taking out a separate insurance policy or a specific rider. For example, a car collection may not be covered for the full value the person put into their collection. They should seek out an insurer that specializes in rare car insurance. That way their insurance professional can help them assess the correct value for their collection. And, if the car collection is antique or restored cars, they can provide receipts to determine an accurate value for their insurance.
Comparison shop for the best rates. Your insurer might cover your personal property but that doesn't mean they're offering you the best rates. Compare insurance online to find the best rates for your belongings.
Losing Sleep Over the Price of Your Premiums? Follow These Steps...
Because some homeowners and vehicle owners are losing sleep over the cost of insurance, it helps to compare insurance rates online. This can help you find the best insurance rates and the best coverage.
To do this:
Enter your postal code to get started.
Once you find the rates you're interested in, let us help you lock in your best rates.
Tip: You can compare other types of insurance policies also to find lower rates like:
Would You Change Carriers If You Could Save $150 on Premiums?
A Kanetix survey completed earlier this year found that money talks. About 56 percent of people living in Canada would change insurers if they could save up to $150 in premiums. And, nearly 59 percent of residents under age 25 would switch if they could save $50 on insurance. Other findings in the survey included that while about 57 percent of Canadians review their policies every year, 27 percent admit they've never reviewed their policy booklet and rely solely on their insurance provider for coverage details.
Ready to start saving? Here are your best ways:
Comparison shop for a lower price
Bundle your family's policies under the same account
Swap out your all-season tires in the fall with winter tires
Consider usage-based insurance
Ask about insurance discounts
Take a driver education course
Install a home or auto alarm system
Commute less to work or rideshare
Change the type of vehicle you drive
Don't Lose Sleep Over Your Home or Auto Insurance
By researching the types of insurance policies they need, Canadians can sleep easier. Talk to your insurer about coverage for expensive personal property. Then, comparison shop for insurance to lock in the best coverage rates and plans. Visit Kanetix.ca to compare insurance quotes from the leading insurers in Canada. Compare quotes today (and get a good night's rest).