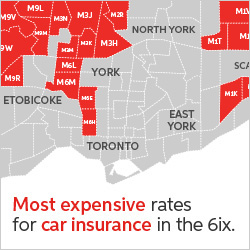 The average Toronto auto insurance premium is almost $500 more than the provincial average.
The average Ontario auto insurance premium is estimated to be $1,473, but if you live in Toronto, chances are you're paying more. According to Kanetix.ca's InsuraMap, an interactive online map that lets you compare auto insurance rates across the city, the average Toronto auto insurance premium is estimated to be $1,948. This is $475 more than the provincial average.
It's also $205 more than what was found at the end of 2017 when the average price of auto insurance in Toronto was estimated to be $1,743.
What's the deal with the price of car insurance?
Province-wide auto insurance rates have been increasing. In the last two years, the average rate changes approved by the Financial Services Commission of Ontario (a regulatory agency of the Ministry of Finance) increased every quarter except one. In fact, last quarter's increase of 3.35 percent is the highest in years.
"FSCO continues to monitor two evolving trends that may be affecting auto insurance rates in Ontario," says the agency in its latest quarterly statement. "First, insurance companies are reporting an increase in claims costs related to property damage, in part because of the rising cost of repairing increasingly technologically advanced vehicles. Second, FSCO notes the growing concern related to distracted driving. As the number of accidents due to inattentive driving increases, so too do the claims costs."
In today's vehicles, sensors and cameras to support accident avoidance systems are typically located in the vehicle's bumpers and sideview mirrors, areas that are susceptible to damage in a collision. Even a minor fender bender can result in tens of thousands of dollars in repairs. Additionally, collisions in the city have been trending upwards. Although 2018 data is not yet available, collisions reported to police have increased each year since 2014.
In Toronto and the GTA as a whole, layer in traffic density and congestion, and together all these factors have a significant impact on the premiums drivers pay. In the first 9 months of 2018 in Ontario, for example, insurers paid out $1.30 in repair and expenses for every dollar of physical damage insurance premium collected.
Toronto auto insurance rates are highest in the city's north end
With rates continuing to climb, Toronto drivers, who traditionally pay more as it is, are really feeling the pinch. Yet some Toronto drivers are feeling the squeeze more than others. Depending on where you live in the city, you could be paying as much as $1,000 more for auto insurance than your fellow Torontonians.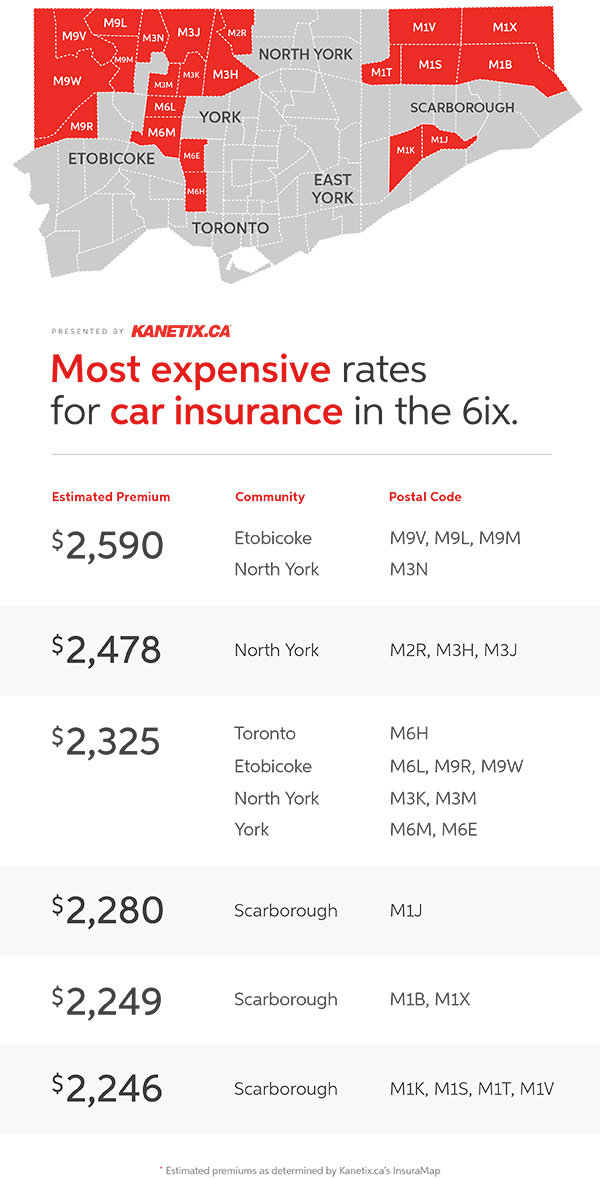 Toronto auto insurance rates are lowest in the city's core and midtown
In comparison, the rates in the city's core and midtown are considerably lower, in the range of $500 to $1,050 cheaper than those found in the north end of the city. One possible reason for this could be that residents who live downtown rely on their vehicle less than those living in Etobicoke, York, North York, or Scarborough.
Public transit trumps the car for downtown residents
The city's Vision Zero Road Safety Plan suggests that only 32 per cent of residents who live in the city's core or East York rely on a personal vehicle to get around. The rest take public transit (37 per cent) or cycle/walk (31 per cent). For those living elsewhere in the city, however, transit by car is considerably more common:
70 per cent in Etobicoke/York
65 per cent in North York
65 per cent in Scarborough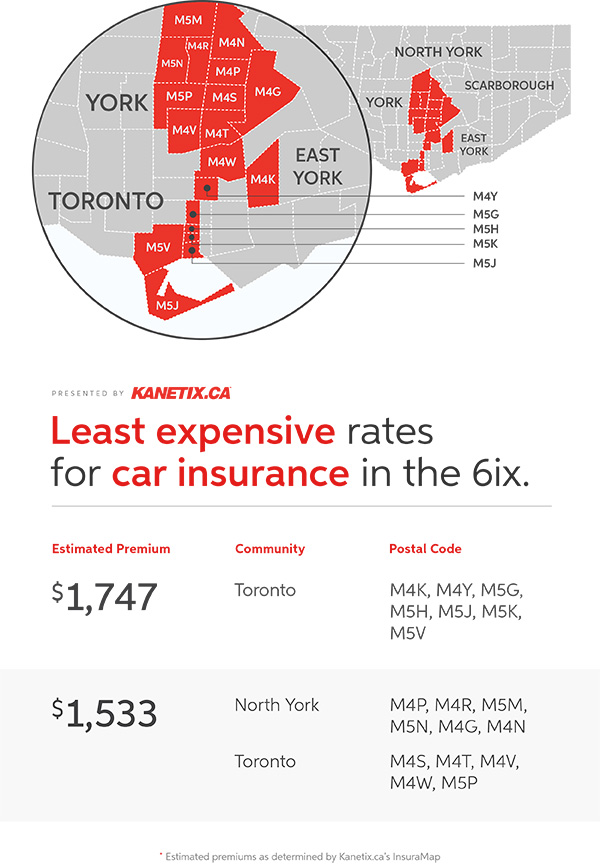 Why do rates vary so much?
There are many factors that go into your auto insurance rate. For example, your driving record, insurance history, vehicle driven, and commute distance play a role in the premium you pay as do other variables such as the age and experience of any additional drivers on the policy. But when the only thing different is your address, why do rates vary so?
It all comes back to the likelihood of a claim. Insurance companies study statistical data on claims frequency (and severity), and if collectively, an area is more likely to report insurance claims this added risk will be reflected in your premium.
Today's reality, however, could be changing. In its 2018 Ontario Economic Outlook and Fiscal Review the provincial government said it will explore a variety of ways to lower rates, including possibly doing away with pricing that takes into account where you live. To this end, legislation has already been introduced, Bill 42, that if passed, will make it so your postal code is no longer a factor in what you pay for coverage.
Your Toronto auto insurance could be lower
Whether you live in Etobicoke or Scarborough, North York or East York, if you haven't put your current premiums to the test by shopping around, you're likely paying too much for your car insurance coverage. Comparing quotes, at minimum each year on renewal, is undeniably one of the easiest ways to save. Compare car insurance quotes at Kanetix.ca today to find your lowest rate.