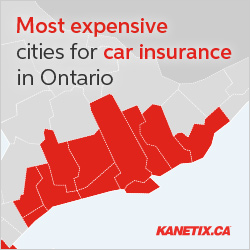 Drivers in the Greater Toronto Area (GTA) continue to pay the most for auto insurance coverage compared to other areas of the province.
Ontario auto insurance rates are some of the highest in the country and rates continue to climb. Over the course of the last two years, the average rate changes approved by the Financial Services Commission of Ontario (FSCO) increased every quarter except one. In fact, last quarter's increase of 3.35 percent is the highest in years.
In dollars, however, how much have auto insurance rates increased? According to Kanetix.ca's InsuraMap the average Ontario auto insurance premium is estimated to be $1,473 which is $157 more than the $1,316 noted near the end of 2017.
InsuraMap is an interactive online map that lets you compare auto insurance rates in your city. It highlights where the most expensive, and the cheapest, areas for auto insurance can be found.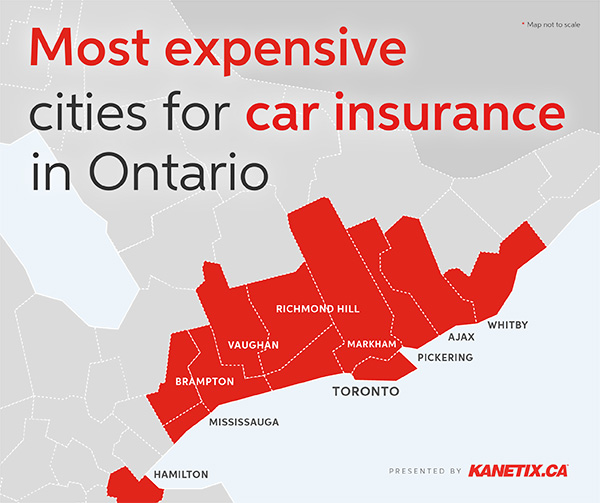 Why are Ontario auto insurance rates increasing?
As noted by FSCO in its latest quarterly statement, there are two trends they're keeping an eye on that may be affecting Ontario auto insurance rates: increased claims costs due to the high cost of repairing today's technologically advanced vehicles and collisions caused by distracted driving. In the first 9 months of 2018, for example, insurers paid out $1.30 in repair and expenses for every dollar of physical damage insurance premium collected. In the GTA, layer in traffic density and congestion, and together all these factors have a significant impact on the premiums drivers pay.
What cities in Ontario are the most expensive for auto insurance?
If you live in the GTA chances are you're paying considerably more than the provincial average of $1,473. Car insurance in Ontario can be expensive and it's particularly so in these 10 cities:
Rank
City
Estimated Premium
1.
Brampton
$2,494
2.
Vaughan
$2,128
3.
Mississauga
$2,086
4.
Richmond Hill
$2,033
5.
Toronto
$1,948
6.
Markham
$1,943
7.
Pickering
$1,714
8.
Whitby
$1,673
9.
Hamilton
$1,670
10.
Ajax
$1,651

The rate estimates are based on a 35-year-old driver of a 2015 Honda Civic with a clean driving record.
Big cities, big rates?
At over 6 million people, the GTA is the most populous area of the country, and nine of the 10 cities listed are within the GTA's borders. Additionally, six of the cities—Toronto, Mississauga, Brampton, Hamilton, Markham, and Vaughan—are some of the province's largest in terms of population size. There are literally millions of drivers in the GTA.
Even so, the size of the city or town you live in does not necessarily define the auto insurance rate you pay. If it did, then Ottawa, London, Kitchener, and Windsor would top the list too as these four cities round out the province's 10 biggest urban centres. Yet, according to InsuraMap, these four cities each have an estimated premium that's lower than the provincial average. The average Ottawa auto insurance rate is $1,151 a year, London is $1,392, Kitchener is $1,264, and Windsor is $1,368.
Why do auto insurance rates vary between cities?
When all else is equal, why do auto insurance rates vary between cities? It's really about the likelihood of a claim. If the town or city where you live has a greater frequency of insurance claims than other locales, or, claims costs trend higher, your premiums will likely reflect this reality. It's all in the claims numbers.
There may come a time, however, when where you live no longer factors into your insurance premium. In its 2018 Ontario Economic Outlook and Fiscal Review the provincial government said it will explore a variety of ways to lower rates, including potentially eliminating geography-based pricing. To this end, legislation has already been introduced, Bill 42, that if passed, will make it so your postal code is no longer a factor in what you pay for coverage.
Where is car insurance cheapest in Ontario?
For the cheapest Ontario car insurance rates, you have to set your sights beyond the GTA. Belleville, Bracebridge, Brockville, Cobourg, Cornwall, Gravenhurst, Huntsville, Kincardine, Kingston, Parry Sound, Pembroke, Picton, Port Elgin, Port Hope, Napanee, and Trenton, for example, all had an average auto insurance premium of less than $1,100.
How to lower your Ontario auto insurance rate no matter where you live
From large urban centres to smaller towns, there are many ways Ontario's nearly 10 million drivers can save money on their insurance premiums:
Maintain a clean driving record. Tickets and collisions can affect your premiums for years.
Purchase your auto insurance and home insurance policies from the same provider for savings of 5 to 15 per cent.
Let your insurer know about your winter tires. All Ontario insurers have to offer a discount to drivers who change their tires seasonally that could save you as much as 5 per cent.
Increase your policy deductibles and save up to 10 per cent. However, be sure to set your deductibles to an amount you can comfortably afford as this is the portion of a claim that you'll have to cover.
Finally, one of the most effective ways to save on your coverage is to shop around. It's the only way to know for certain that you're getting the best price possible. Compare car insurance quotes at Kanetix.ca today to find your lowest rate.