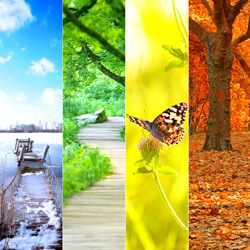 Get ready for the season of road trips with a lower car insurance rate.
A change in season is the ideal reminder to take a few quick minutes to see if you're still getting the best car insurance rate out there, and now that spring has officially sprung it's time to see if you could spring into some savings on what you pay for coverage.
Six ways to lower your auto insurance
Auto insurance can account for a big chunk of your regular monthly expenses, and if left unchecked, it's easy to overpay for it.
Here are six questions to ask yourself that, depending on the answer, could help you spend less on the coverage you need.
Are you a multiple car family?

If there's more than one vehicle in your household, you may qualify for a break on your premiums, typically about 15 percent, if you insure all your automobiles through the same company.
Is your home and auto insured by the same company?

Many insurers offer a discount, called a multi-line discount, to customers who combine their home insurance and auto insurance policies with them, usually to the tune of five to 15 percent.

Did you know?: Often people think only a home insurance and auto insurance policy qualifies for a multi-line discount, but there's actually more to it. Snowmobiles, RVs, motorcycles, or tenant insurance can all usually be bundled to qualify for a multi-line discount too.

Do you change your tires seasonally?

If this past winter you invested in a set of winter tires, let your insurer know (if they don't already) because it could save you about five per cent off your premium.
Are you getting all the discounts you're eligible to receive?

Ask your provider for a list of auto insurance discounts as there may be opportunities to save money that you didn't know existed, or that your provider didn't know to offer you.
Would you be willing to plug in?

If so, consider a usage-based insurance policy. Usage-based insurance programs monitor a driver's habits when behind the wheel to offer insurance discounts to good drivers. Many programs offer a five percent rate reduction just for signing up, with additional premium decreases down the road.
Is your current provider still offering your the best price?

It goes without saying that we wholeheartedly believe that comparison shopping is the most effective way to save on your insurance. Auto insurance rates often change—not just with your insurance provider, but all providers—and the company who offered you the best rate last year (or the year before that), may no longer give you the lowest price today.
Put your current insurer's premiums to the test. Compare auto insurance quotes today at Kanetix.ca to find your lowest rate.