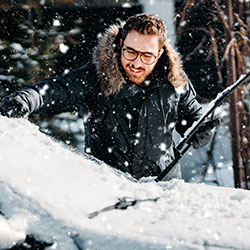 As the police like to say, "When you see snow, take it slow!"
For typically 5 months of the year (if not more) we have to navigate whatever foul weather Mother Nature throws at us. But, for all the practice and expertise we Canadians should have behind the wheel during these months, we always seem to be caught by surprise as fall turns into winter.
As we inch our way towards the official change in the season, it's time for a refresher on how to navigate our winter roads safely.
Winter-Ready Vehicles
The snow, slush, and cold will take its toll on your car. To make sure your vehicle is ready for winter's wrath:
Take it in for a tune-up and oil change. Ask your mechanic to replace your wiper blades, top up your fluids, check your tire pressure, and test your battery.
Pull out of storage your ice scraper and snow brush.
Be prepared for an emergency. Inventory your winter emergency car kit to make sure you have everything you need in case your car is stuck in the snow or you're stranded at the side of the road.
Carry an extra jug of windshield washer fluid in your trunk.
Keep your gas tank at least half full. That way you've got the fuel to get to where you need to go, no matter how long it takes you.
Finally, if this year, you've decided to invest in a set of winter tires, let your auto insurance provider know. In Ontario, having winter tires will ensure you get an auto insurance discount, usually in the neighbourhood of about five percent. Outside of Ontario, the winter tire discount may be available too, but it will vary by insurer.
Winter-Ready Driving
Your vehicle is only as ready for winter as the driver behind the wheel. When the snow flies and the temperatures dip, remember to:
Clean off the car. If snow has accumulated on your car, make sure you clean it off before hitting the road. Clear it off your car's roof, hood, windshield, rear window, mirrors, and lights.
Take it slow. When the roads are not at their best—like when there is ice, snow, and other winter road hazards—you should lower your speed. Also, take it slow and easy when accelerating, braking, or taking corners.
Keep a safe distance between your car and the vehicle in front of you. In winter, and especially in bad weather, double the two-second rule when driving. This means, at least a 4-second interval from the time the car in front of you passes a fixed object until you reach the same object.
If you hit slippery spot and find you're starting to skid, take your foot off the brake (or accelerator) and look to where you want the vehicle to go and steer in that direction. Keep in mind, the vehicle may skid a few times before you regain total control.
Never overtake a moving snow plow. Be patient and keep a safe distance behind working snow plows and resist the urge to pass.
Warm up Your Winter with Lower Car Insurance Premiums
With flurries in the forecast across most of the country, it's official, the season is changing. See if it might be time to change insurance providers too. At Kanetix.ca you can save 20 percent on car insurance when you compare quotes to find the best car insurance rate out there.