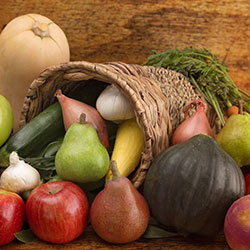 From the credit card in your wallet to the travel insurance you'll need on your next trip to the home and auto insurance policies you have, you can harvest the savings this Thanksgiving season at Kanetix.ca.
Take charge of your credit cards
Are you getting the most out of your credit card? Long gone are the days when all you got from your credit card company was a bill each month. There are many rewards credit cards that offer cash back, travel perks, or points that can go toward buying gift cards, entertainment, activities or merchandise. If a card will give you cash back or help you spend less on items you'd buy anyway, perhaps that's a credit card that is ripe for the picking.
Visiting family this fall?
If you'll be spending time this autumn with family living outside of Canada (or perhaps you're going on a trip to avoid the family), chances are you'll need travel insurance. When booking your trip you'll be offered an opportunity to buy travel insurance along with it, but before you buy it, shop around first-a single search can help you save up to 64 per cent for the coverage you need.
Home and auto insurance
Together, home and auto insurance probably costs you a couple thousand dollars each year, if not more. There are ways to save money on these two significant expenses:
Bundle your policies
Many insurers offer discounts to customers who combine their home insurance and auto insurance policies with them, usually in the five to 15 per cent range.
Increase your deductibles
Save five to 10 per cent on your auto or home insurance by increasing your deductibles. Make sure you're comfortable with this number though as it is the amount you would have to pay in the event of a claim.
Ask about discounts
Did you know that many home insurance providers offer a discount if you've paid off your mortgage? And, that auto insurance providers may offer a discount if you change your tires seasonally (to the tune of about five per cent)?

Ask your insurance provider for a list of their discounts as there may be opportunities to save money that you didn't know existed, and that your provider didn't know to offer you.
Pay upfront
Paying for your car or home insurance policy in full, rather than in monthly installments, means you won't have to pay those annoying administrative fees that many insurance companies charge for the convenience.
Shop around to save
Saving money is often about making sure you shop around. Whether it's the credit card with the best perks or the insurance coverage you need, know for certain that you're getting the best deal possible by comparison shopping.
This harvest season you can shop the Kanetix.ca market that's overflowing with savings opportunities.