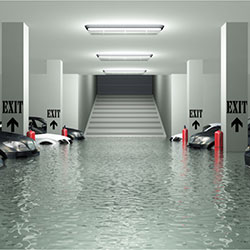 In the last several years, flooding has become more common due to heavy rainfall and severe storms. This means more homes and cars have and will be affected by water damage.
Under these circumstances, ensuring you have the right insurance coverage is essential for protecting your property. The Insurance Bureau of Canada (IBC) cautions consumers, "be insurance aware and to check what your policy covers before severe weather occurs."
If you are properly covered, dealing with the misfortune of flooding can be reasonably straightforward. The first step is to call your insurance provider and submit a claim. Your home insurance typically covers your residence. Your auto insurance typically covers your car. However, sometimes your insurance intersects in cases such as the belongings in your car. This may be covered by your home insurance rather than your car insurance. So, who is responsible for your car in an underground parking lot?
Car Damage
In August 2018, Toronto saw widespread flooding that resulted in over $80 million in insured damage. There were reports of submerged vehicles and many of the local transit stations and underground parking garages saw flooding. Not only were some of the new streetcars put out of service indefinitely, but the outcome for many of the damaged vehicles was grim.
The IBC states, "Any vehicle that was flooded up to the bottom of the dash must be branded as non-repairable and can no longer be operated on any Canadian road. Every Canadian jurisdiction follows this same guideline."
After the flooding numerous car owners were forced to submit claims. Many tenants and condominium owners may have been left with some confusion regarding their insurance.
If the water entered the parking garage through the building, does that mean the condo corporation is at-fault?
Most condo corporations are in charge of insurance for the building as well as the common elements. Tenants or unit owners typically pay the insurance premium as part of the monthly maintenance fee and the building management usually handles the rest. So, does this mean your car falls under the master policy? Most likely it does not. Even though the parking garage may be considered common property, the building may not be responsible for your car in the event of flooding.
If a car is damaged, the claim would go to the car owner's insurance company for repairs. However, if there is damage to the parking lot itself, the claim would fall under the condo corporation's policy.
What to Do If You Are Caught in Flooded Road Conditions
The IBC recommends staying off the roads in flooded conditions. However, if you do find yourself in such a situation, they have put together a list of safety tips to follow:
Take alternative routes: You won't be able to gauge the condition of the road or the depth of the water and you could risk severely damaging your vehicle.
Be on the lookout: Watch for road damage, downed wires and loose objects on the roadway.
Avoid flooded areas: Just six inches of water can cause a vehicle's engine to stall. This could cause major damage and you could be stranded in a less than ideal situation.
Do not restart your car: If your engine does stall, do not try to restart it. This could cause further damage.
Drive slowly: If you have no other choice but to drive through the water, drive slowly to avoid splashing water onto the engine. Moreover, your breaks may not work as expected when wet. So, even after your vehicle is out of the water it is best to slow down.
Remain calm: If floodwaters were to surround your car, turn on your headlights and hazard lights. This way emergency crews and other drivers can see you. Get out and make your way to higher ground if it is safe to do so. If it's unsafe, climb onto the roof of your car and dial 911 for help.
Get an inspection: If you have driven through water or suspect water damage, have a mechanic inspect your vehicle.
How to be Prepared
Car insurance coverage is compulsory in Canada, but the mandatory coverage varies by province and territory. If you are unsure of what is included in your policy, it may be time to give your insurance provider a call.
"Damage to vehicles caused by water is usually covered if comprehensive or all perils auto insurance has been purchased. This coverage isn't mandatory, so check your policy or talk to your insurance representative," the IBC explains.
You may not be covered for water damage. So, take this as an opportunity to compare car insurance quotes and get the coverage you need at the lowest rate. At Kanetix.ca you can compare quotes from Canada's most trusted insurance providers.