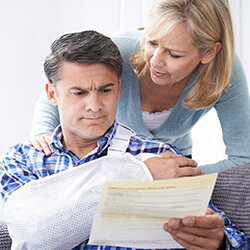 Last year was a banner year for tourism in Canada. Almost 21 million tourists visited Canada in 2017, and this year is shaping up to be a great year too.
As we head into the busy tourism season, Canadians everywhere are getting ready to open their doors to friends and family. If you are expecting to welcome visitors from out-of-country this year, encourage them to consider getting Visitors to Canada health insurance before they depart.
Health care in Canada for tourists
The last thing anyone wants to think about is getting sick or injured when travelling; however, even the most minor injuries or illnesses can become a major expense—even in Canada. The fact is that Canada's well-known health care system does not offer free medical care to visitors or tourists.
Is your parent or grandparent planning to apply for the Super Visa? They'll need to obtain travel health insurance that is valid for at least one year from a Canadian insurance company. Compare Super Visa health insurance quotes today.
A trip to the emergency room can be costly
Travelling often means enjoying new experiences, tastes and activities. But often, these new, unfamiliar experiences can lead to illness or injury. It could also just be a matter of unfortunate timing. Whatever the reason, a trip to the emergency room can be costly for travellers to Canada without travel health insurance.
The following lists real Visitors to Canada insurance claims that were submitted to one of the travel insurers featured through Kanetix.ca, and paid in full last year. These claims show how expensive health care in Canada can be if you're a tourist without coverage, even for something as simple as a rash or insect bite:
| | |
| --- | --- |
| Reason for claim | Claim* |
| Rash (caused by contact with an allergen, like poison ivy) | $1,386 |
| Urinary tract infection | $1,615 |
| Kidney infection | $1,905 |
| Hives | $2,032 |
| Insect bite that led to infection | $2,044 |
| Dislocated shoulder | $2,055 |
| Broken arm, just above the wrist (usually the result of a fall) | $2,190 |
| Shortness of breath | $2,377 |
| Heart palpitations | $2,723 |
| Vertigo | $2,786 |
| Fractured forearm and dislocated wrist | $3,047 |
| Concussion | $3,092 |
| Mini-stroke (TIA) | $4,245 |
| Kidney disease | $5,348 |
| Pulmonary embolism | $7,437 |
| Acute appendicitis | $8,672 |
| Fractured clavicle | $14,280 |
| Acute pancreatitis (usually caused by gallstones) | $14,288 |
| Ovarian cyst | $25,461 |
| Heart failure | $68,549 |
* Although these claims are real, they are for illustrative purposes only. Every claim is unique.
Hope for the best, plan for the worst
Canada's a big country but no matter what sites your friends or family plan to take in while here, a Visitors to Canada travel insurance policy will ensure they've got the protection they need should their plans go awry due to illness or injury. Visitors to Canada travel insurance will typically cover the costs for:
emergency hospitalization, medical services and treatment
ambulance
diagnostic services (like laboratory tests and X-rays)
prescription drug expenses (as a result of a medical emergency)
emergency dental work for damage caused by an accidental blow to the face
No matter where your friends or family are coming from, encourage them to get Visitors to Canada travel insurance to ensure their trip to Canada isn't remembered for all the wrong reasons, like a large medical bill. Compare Visitors to Canada travel insurance policies today at Kanetix.ca.