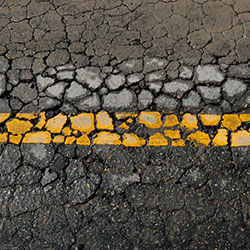 It's going to be a bumpy road this year for drivers as auto insurance rates are likely going to increase.
Brace yourself. Auto insurance rates are expected to increase this year, Canada-wide, and this is bad news for Ontario drivers who already pay more for coverage, on average, than any other province. Early reports suggest that premiums will be increasing in the neighbourhood of five per cent; however, the reality is that many Ontario drivers could see an even greater increase as claim costs in Ontario are some of the highest in the country.
To date, Intact, Aviva Canada, Economical Insurance and RSA Canada have all suggested that rate increases are expected to occur in 2018.
What's driving the increase in rates?
Believe it or not, there's not a lot of money being made by insurers from auto insurance. In fact, many insurers in 2017 saw combined ratios that exceeded 100 per cent. What this means is that for every dollar received in premium, more than a dollar was spent to administer and fulfill claim requests. This is why many insurers are looking to not only increase rates in the coming year but may also tighten their underwriting criteria to limit, or minimize, the number of drivers they cover.
From a business perspective, that's the dollars and cents of it all, but what is happening on the streets that's causing this situation? By many accounts, it's not one reason, but several, that together are driving rates higher.
Fraud: This is a big one. The Insurance Bureau of Canada estimates that $236 of each Ontario driver's auto insurance premium goes towards paying claims that end up being fraudulent. From fees for health services that were never received, charges for towing that never happened, to costs for repairs that either never took place or were inflated, fraud is all too common. And it's a big business in and of itself, which is why the province's first Serious Fraud Office will be opening in spring 2018 to actively investigate and go after those involved in auto insurance fraud.
Car technology is great, until it's time to repair it: Bumpers are no longer simply bumpers and your sideview mirrors are more than just mirrors, which means the cost to repair or replace them is increasing despite the prospect of fewer claims. Sensors and cameras to support car safety technologies like Blind Spot Monitoring, Rear Cross Traffic Alert, Forward Collision Warning Systems, back-up cameras, and Adaptive Cruise Control are typically located in these areas that are susceptible to damage. Even a minor fender bender can result in tens of thousands of dollars in repairs due to the expensive technology incorporated in new vehicles.
No amount of safety technology can help, if the driver is distracted: Despite safety technology in today's new cars, the frequency of collisions is not decreasing as expected and some blame distracted driving. Audible or visual alerts are ineffective if a driver is too distracted to heed the warnings in time.
Rates may be increasing, but Kanetix.ca can help you minimize the hit to your wallet
Auto insurance rates are about to change in Ontario and many drivers are going to see a significant increase in what they pay for coverage. It's essential then, when it comes time to renew your auto insurance, that you don't assume your current insurer is still offering you the lowest rate available. The fact is, insurance rates do not uniformly change across all insurers for all drivers at the same time, and the company that offered you the lowest rate last year may not be the company with the lowest rate today.
Too often, drivers simply allow their policy to auto renew which while convenient, can be a costly mistake as you could end up paying hundreds more for your coverage. Last year, for example, Ontario drivers who shopped their rate at Kanetix.ca, saved on average $610*. These types of savings are made possible because no other comparison service covers as much of the auto insurance market than we do. We search for your lowest car insurance rates from over 50 insurance providers.
What's more, when you shop your rate at Kanetix.ca we'll ensure you're getting the discounts you're eligible to receive by asking questions like:
Do you have roadside assistance? As part of a roadside assistance program, you could save up to 15 per cent.
Would you be willing to bundle your auto and home insurance policies? Bundling your policies with the same insurer usually results in a discount of up to 20 per cent.
In the winter, is your car equipped with winter tires? All insurers in Ontario must offer a winter tire discount that could save you about 5 per cent.
Would you be interested in signing up to a usage-based car insurance (UBI) program? These programs, which monitor your driving habits, typically save you five per cent just for signing up, with additional savings of up to 25 per cent for drivers with good driving practices.
Are you affiliated with a school, organization or employer who offers a group insurance program? With member discounts available through Kanetix.ca, your premiums could be even lower with the benefits offered through a group insurance policy.
This year, when you get your renewal documents, put your current insurer's rates to the test so that you can be confident that you're getting the best deal possible. You've got nothing to lose, just money to save, and it takes just a few minutes to find out who will give you the best deal on car insurance for the year ahead.
* 75% of Kanetix customers in Ontario who participated in the survey said Kanetix helped them identify an average savings amount of $610 (June - November 2017) on their car insurance. The cited amount represents the average difference between the best quote obtained at www.kanetix.ca and the current premium amount of participants in the survey. The savings amount varies by individual and does not constitute a guarantee; in each individual case, the difference may be smaller or greater than the savings amount cited.